Our recently completed 14,000 sq. m fit out for AIB at Central Park Sandyford has achieved LEED v4 GOLD Interior Design & Construction, scoring 61 points. The completed facility is a centre of excellence in digital innovation for AIB's team that designs, delivers, and supports digitally-enabled financial products and services.
Central Park is located approximately 10km south of Dublin City Centre at the base of the Dublin Mountains, and is strategically positioned adjacent to both the M50 Motorway and the N11. With ease of access to the M50 Motorway, Central Park is arguably one of the most accessible office locations in Dublin and is just 30 minutes from Dublin Airport.
In addition to the excellent leisure amenities located within Central Park, occupiers can avail of the 10-minute Luas journey to Dundrum Town Centre where there are numerous shops, cafes, restaurants and bars. Dublin City Centre is a further 15 minutes on the Luas where the full city life can be experienced.
Commenting on the successful accreditation, AIB Property Transformation Project Manager Muiris O'Sullivan remarked, "This recognition of LEED Accreditation in the design and construction is much valued by AIB, in particular as we depart on a new core principle of the Bank being sustainable and improving environmental impacts evidenced by AIB being a founding signatory of the United Nations Environmental Programme."
The fit out is designed to reduce annual energy consumption by 22% and saves over 33% potable water use through fixture selection and rain water harvesting. 78% of all regularly occupied spaces have views to external features with enhanced ventilation systems installed.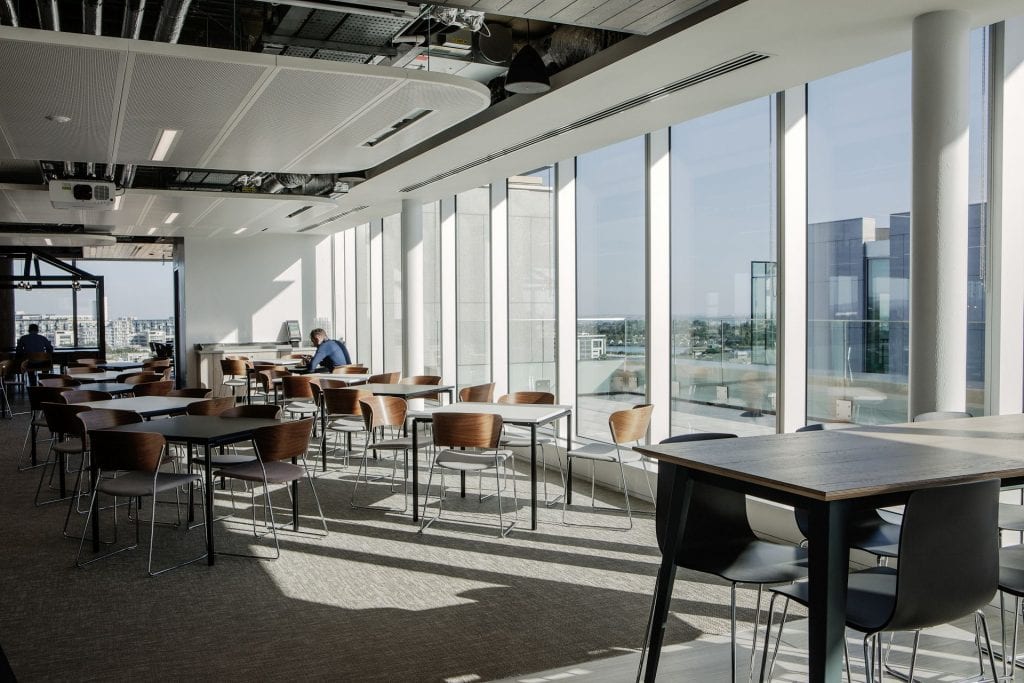 Mechanical systems reduce refrigeration use to minimise ozone depletion and global warming potential. Building systems have smart metering to manage consumption and alert the building team to any spikes or leakage.
The fit out is designed to encourage adaptive reuse and optimise the environmental performance of building products and materials. More than 50% of floor and ceiling systems are designed to be movable or demountable, with flexible plug and play power and data systems, 12 products with third-party verified Environmental Products Declarations (EPDs) were installed and, during construction, almost 80% of construction and demolition waste was diverted from landfill and incineration.
Congratulations to the client, design and contracting teams in achieving LEED v4 GOLD certification.