How we work is changing, where we work is changing, and with that, the places we work must change too. The most sustainable place to work is often the building that is already built but there can be obstacles and challenges in achieving this.
Recent changes at all stakeholder levels have sped the charge in refurbishing and extending existing building stock rather than building new. At RKD, we see the opportunities in retaining, upgrading, and extending to help create the offices of the future.
The office has evolved over the past number of decades. Expectation of 'floor to ceiling height' has increased to allow brighter interiors and more openness on a typical office floor plate; the British Council for Offices (BCO) recommends a 2.8m minimum.
Servicing requirement has grown both in floor and ceiling voids (150mm and 550mm respectively) while design for fire safety, universal accessibility, and staff welfare facilities have prompted changes to the layout of a typical office core.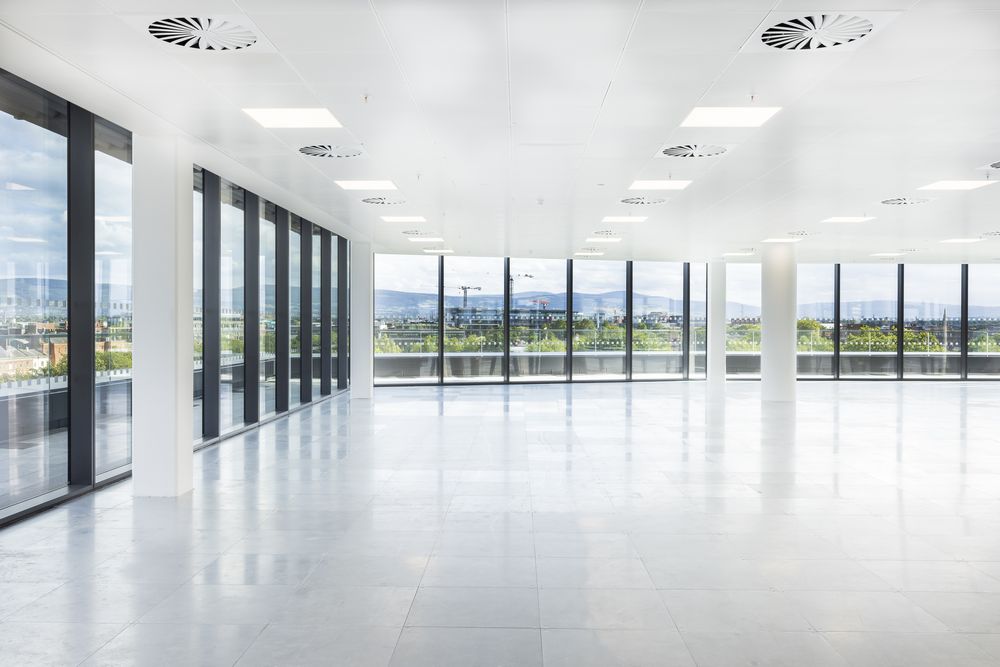 Increased floor to ceiling heights allow brighter interiors and more openness on a typical office floor plate
The expectation of office façades has also increased. Modern façades must work harder to serve the dual purpose of communicating identity while reducing the building's carbon and financial cost going forward. Inability to meet these targets has resulted in the demolition of some office buildings, and the warranted justification for building new and better.
Through design thinking we share our commercial design knowledge to help clients evaluate real estate opportunities where refurbishment can optimise strategic outcomes. One such project was Baggot Plaza for client Kennedy Wilson.
Originally an 8,500 sq. m 1970s office across three buildings in a prime Dublin 4 location, we determined that the existing building structure was capable of being stripped back and extended on several sides, then fitted out to the level expected of the fit-out tenant market. Re-using and extending the primary structure gave the development a one-year head start on competing new build developments.

Baggot Plaza's building shell was retained, refurbished, and extended
RKD's design solution doubled the square meterage to 17,000 sq. m while retaining the existing building shell. A new façade was added, and double height spaces were introduced to increase daylight internally.
The project was completed in 18 months, improving the BER from F to B1, and achieving LEED Gold in the process.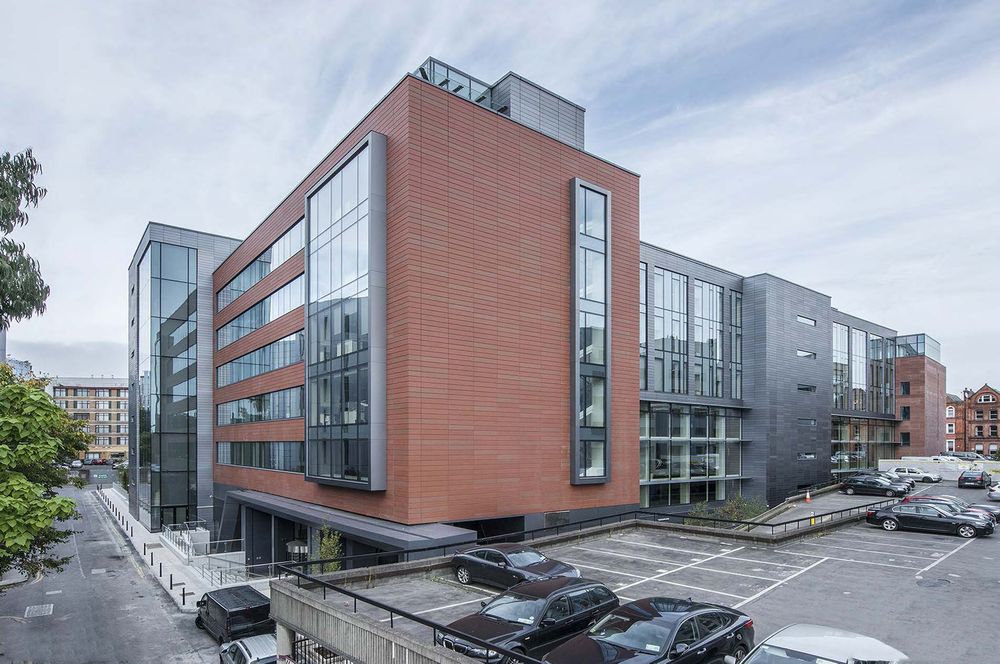 Baggot Plaza's development strategy attained impressive sustainability credentials
The recently implemented Dublin City Council Development Plan 2022 – 2028 now requests the justification for demolition of buildings as part of the planning process. This justification refers to both the retention of our built heritage, and the carbon implications of demolishing and rebuilding. This move toward retention mirrors what we are hearing from commercial clients and tenants in seeking a building that is truly sustainable.
We work with clients to establish realistic and achievable sustainability targets at an early design stage and explore the benefits of retaining as much of the carbon-intensive structure in an existing building as possible. This might mean maintaining the structural grid and extending both laterally and vertically, looking at a new façade, adding a new core that meets many of the modern building regulation requirements. We often find that many of these decisions help improve the performance of a building and keep the dreaded 'stranded asset' at bay.
The benefits of retention can also yield more than sustainability targets. RKD's commercial design methodology explores the potential for incorporating existing buildings as part of new development.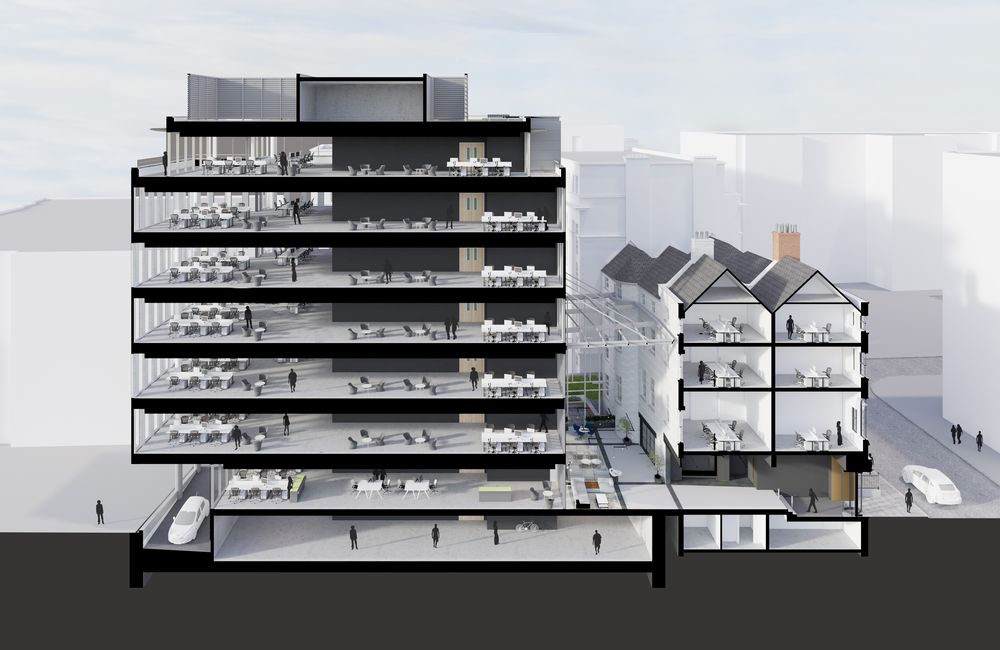 The glazed atrium connects protected Georgian structures with newly built development at 20 Kildare Street
20 Kildare Street for instance creates new and unique office space in the heart of historic Dublin that melds with the adjoining terraces, situating both within the modern city's landscape and culture.
A series of protected Georgian townhouses fronting Kildare Street was unified and refurbished to connect via glazed atrium with a new 7-storey Grade A office building at the rear. The resulting high-spec office space maintains its important place within the fabric of Dublin while generating a unique offer for tenants in the office market.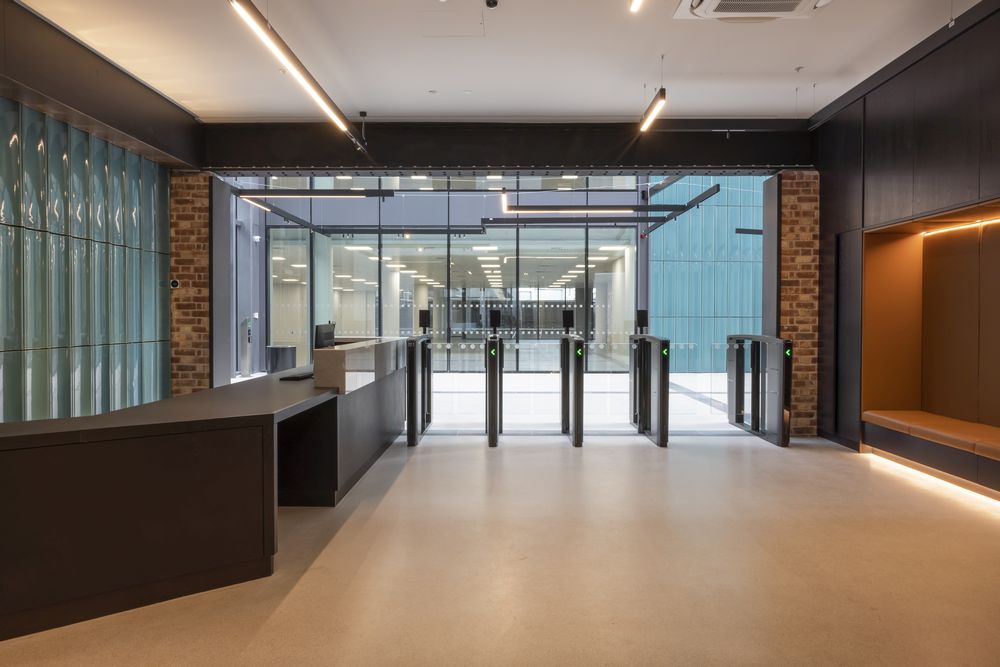 Visitors to 20 Kildare Street are met with a sleek and modern reception space
There is also benefit on a city scale of the retention, refurbishment, and expansion of office buildings. The Dublin Central Masterplan with Hammerson involved a detailed study of RKD's Carlton Cinema (1938) on Dublin's O'Connell Street.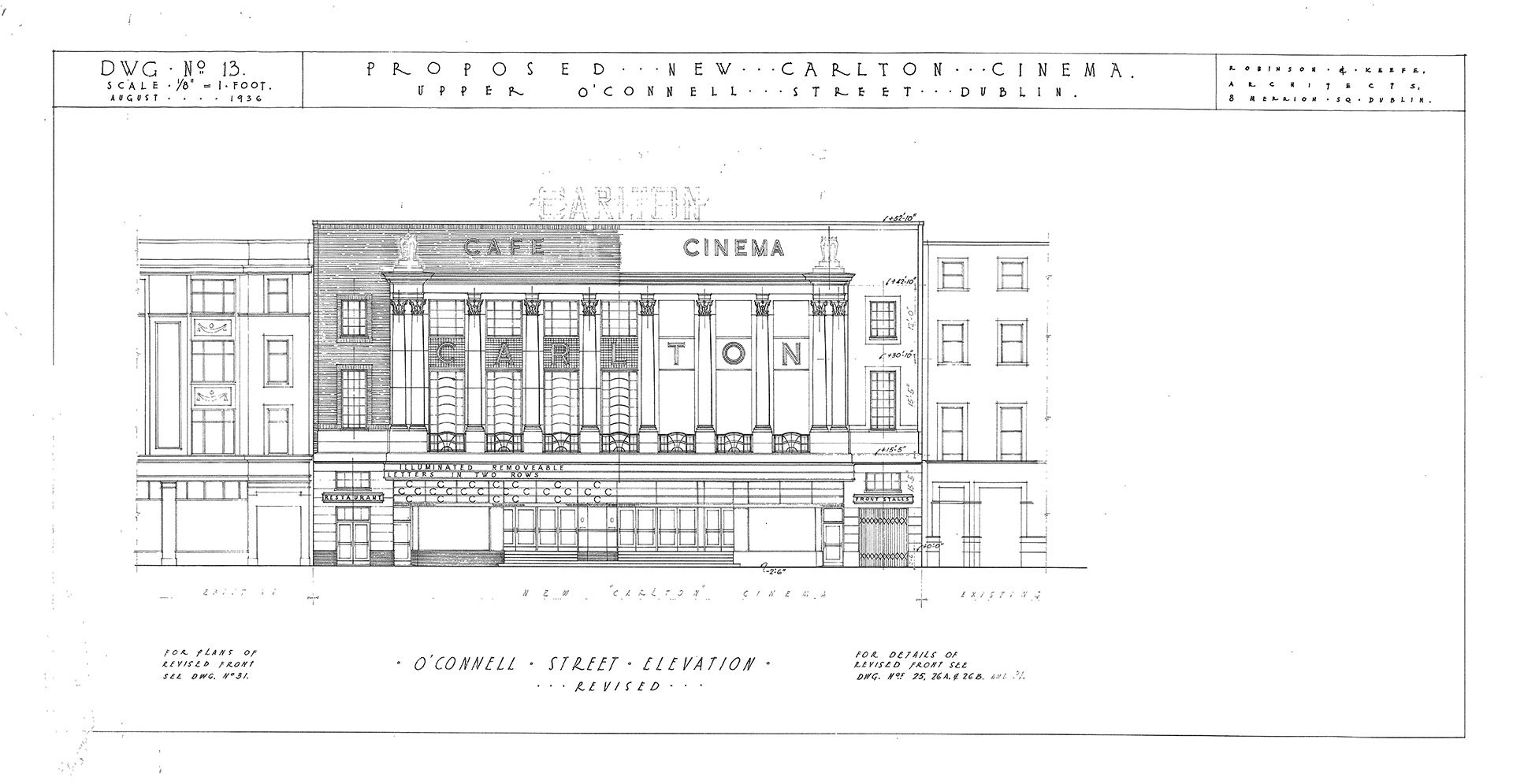 The Carlton Cinema building on Dublin's O'Connell Street was originally designed by Robinson & Keefe Architects
RKD's design solution incorporates a double height restaurant space behind and adding height to the street in a sensitive and appropriate way.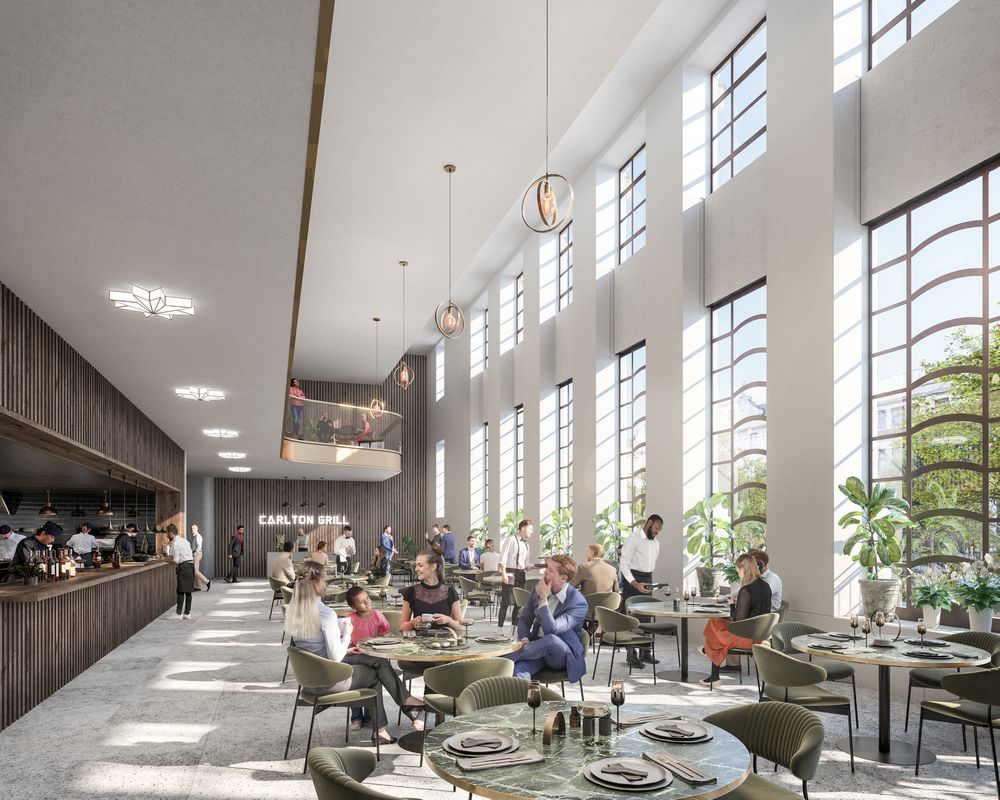 Proposed redevelopment of the Carlton Cinema features double height restaurant space as part of the Dublin Central Masterplan
The increased density on a site like this encourages sustainable modes of transport, with a metro station beneath, and adds to a more active and vibrant city centre.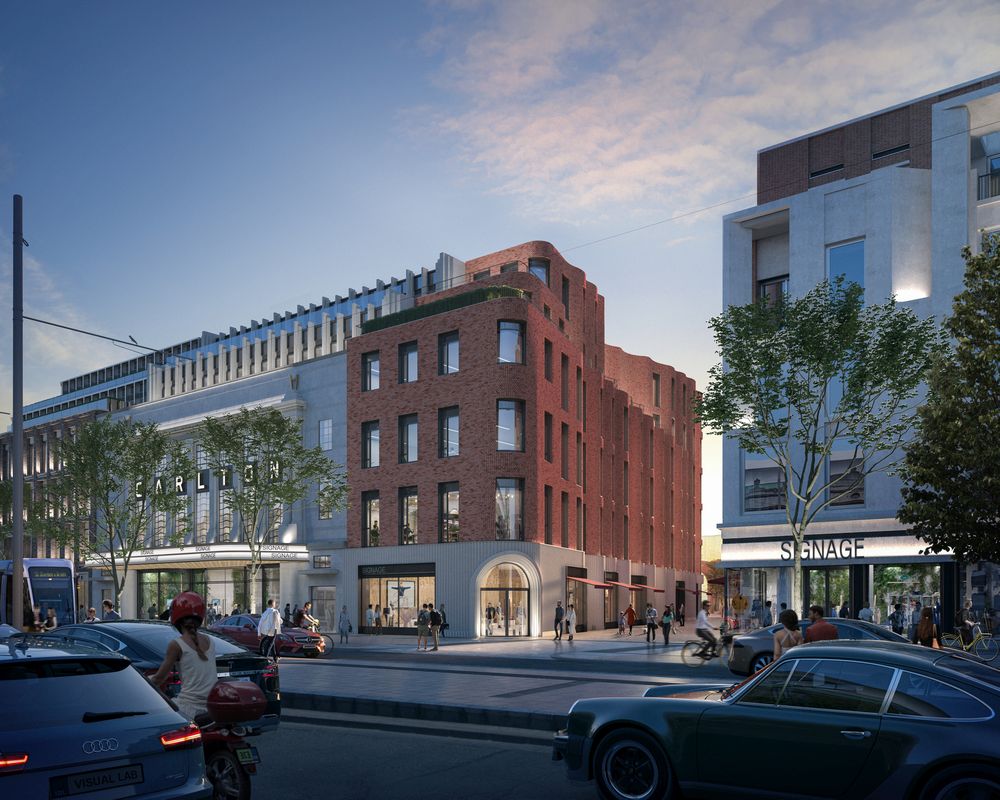 Dublin Central is designed to meet the evolving needs of a diverse range of people on 'Ireland's Main Street'
There is more to the recent development plan which impacts on our decision to build afresh. New office buildings over 10,000 sq. m now must provide 5% of office net internal area as 'Community Use'. This requirement is new to the Dublin office market and has added cost uncertainty to an already expensive process.
Car parking allowance has also been reduced to zero in certain areas such as Zone 1, an inner-city zone served by more public transport. As this can still be seen as a risk in attracting certain tenants, an alternative approach could be to retain the building and a proportion of the existing car parking while omitting the 5% requirement for additional community space.
In summary, we see the enormous potential of refurbishment and extension to create unique office spaces that minimise embodied carbon and maximise the character of existing buildings. While not all buildings are appropriate for refurbishment to current standards and expectations, RKD's commercial design methodology provides the knowledge and tools to help our clients explore what's possible and decide the best course of action for realising their strategic ambition.