Eco housing, car-free streets and socially-conscious neighbourhoods are just some of the features that make the city a shining example of sustainability.
With a population of 230,000, Freiburg in South West Germany has been highly effective in developing and implementing sustainable design principles through an urban development plan that has successfully delivered high-quality, low-carbon, ecologically diverse and affordable neighbourhoods.
We wanted to learn more about how Freiburg has been so effective in achieving its sustainable design goals so we put together a research team comprising RKD's David Browne, Denis Brereton, Sean Hogan,  Karolina Backman  and Eliza Mauro, joined by John O'Mahony and Colin King of O'Mahony Pike and David Dwyer of BOX Urban, to visit Germany's 'Green Capital' and share what we learned.
Day 1 started with an overview of Freiburg from the solar terrace of our hotel Premier Hotel Victoria, the world's first Eco-hotel: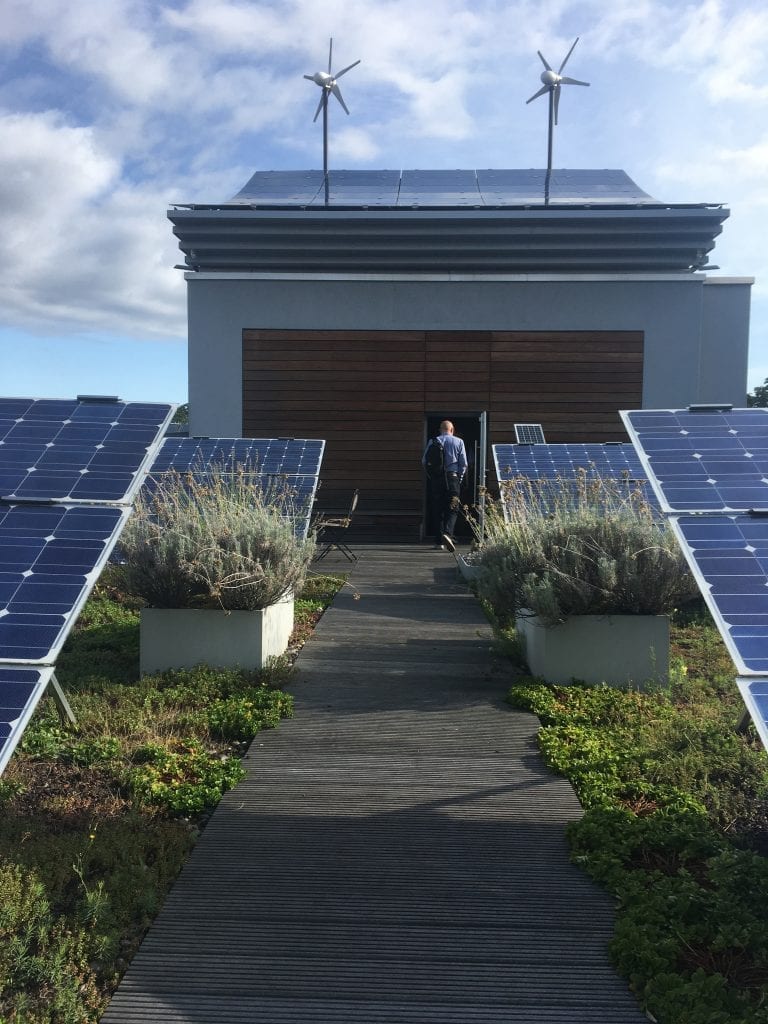 We then got an introduction to the pedestrian heart of the city by our guide from the Innovation Academy: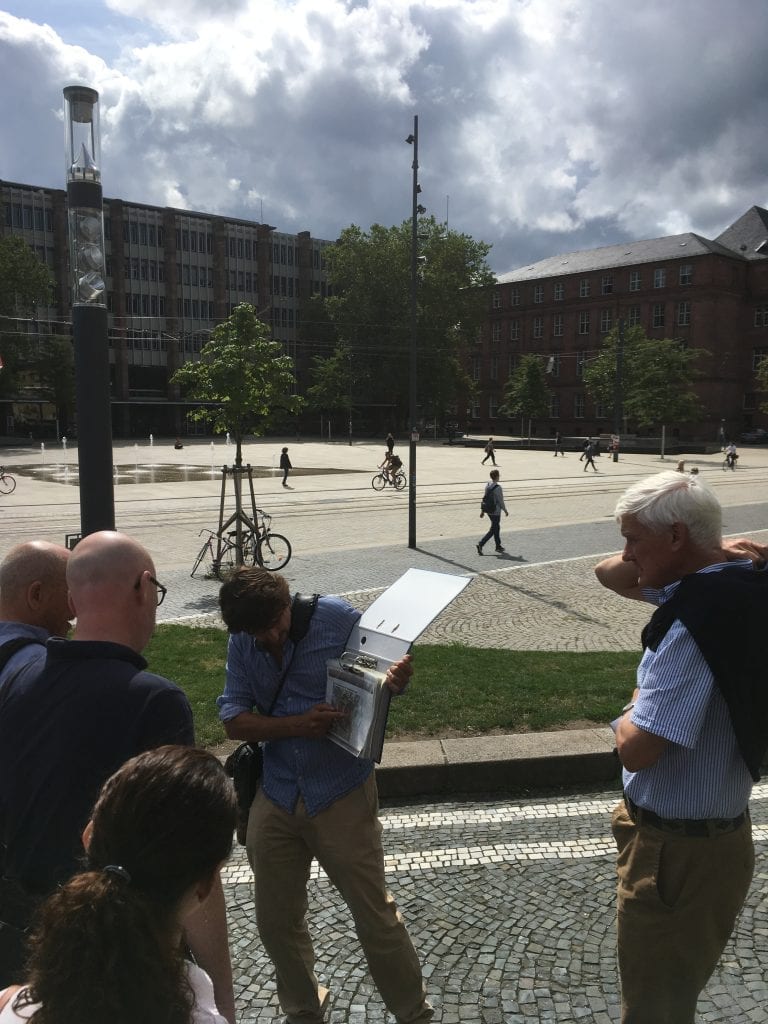 Freiburg city centre was completely flattened during the Second World War but has been restored according to its traditional roots and is now a pedestrian haven: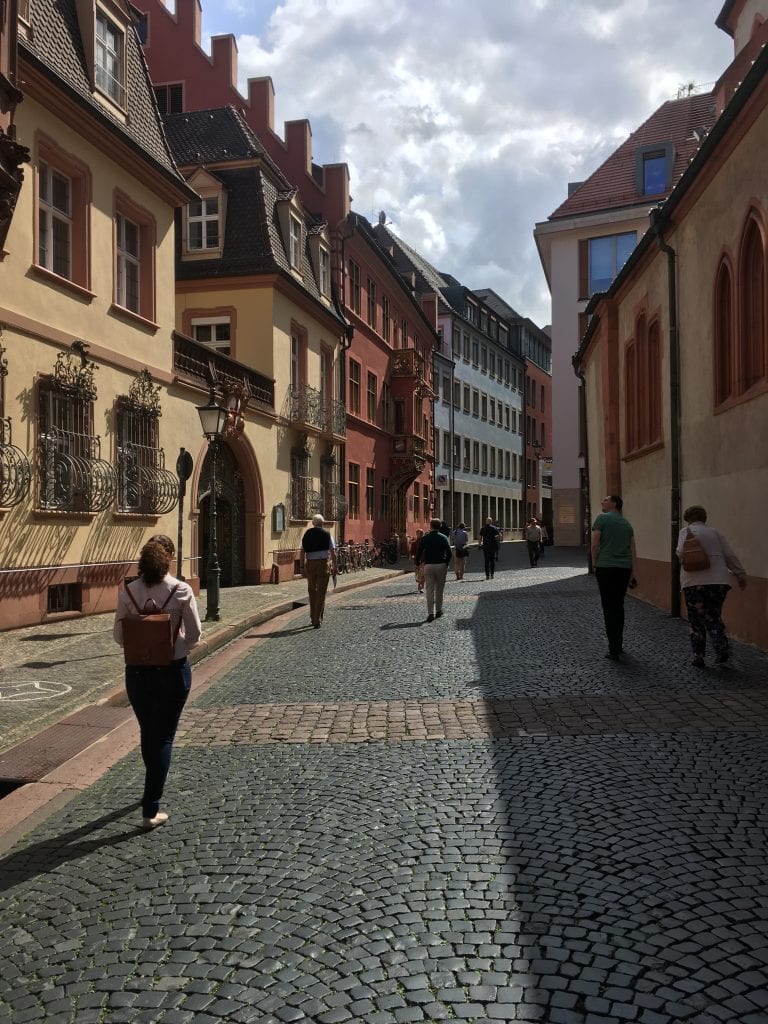 View from one of the city's multi-storey car parks keeping cars off the streets: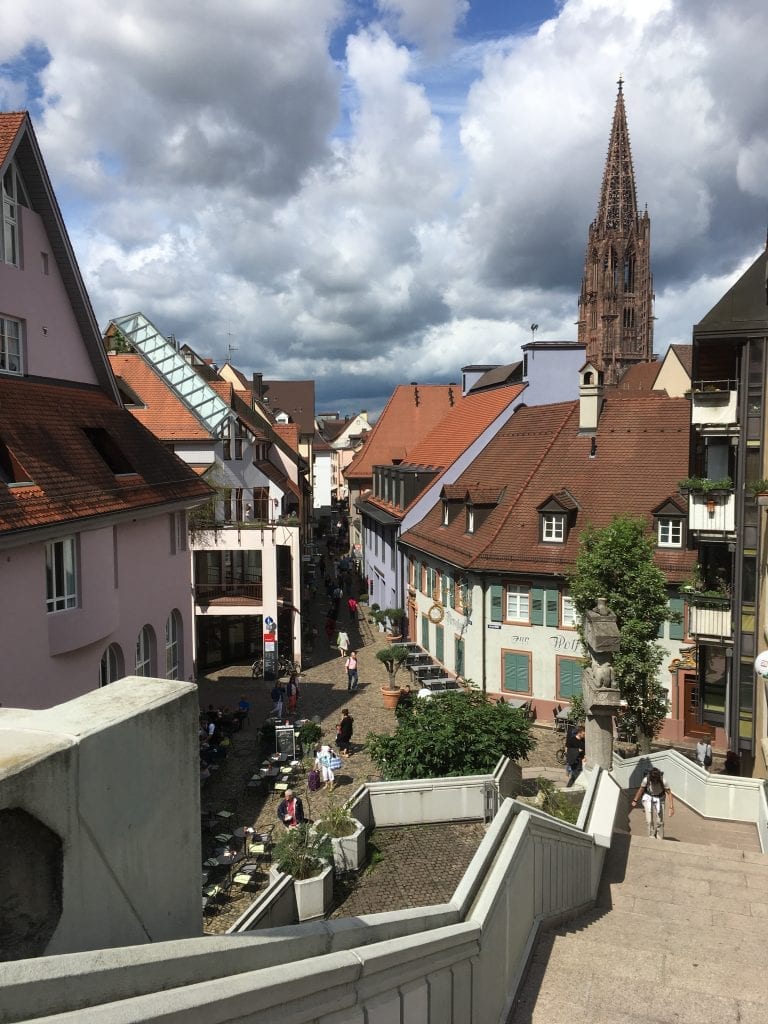 The multi-storey car park also acts as a sound barrier from the vehicular roads: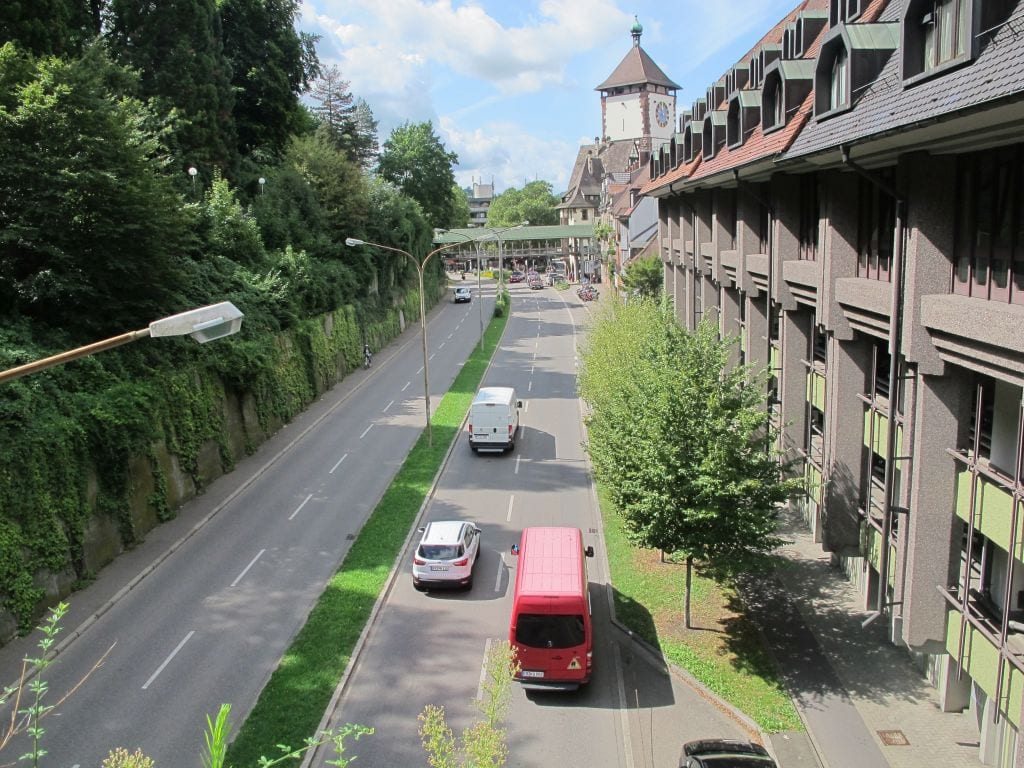 With a full neighbourhood on top!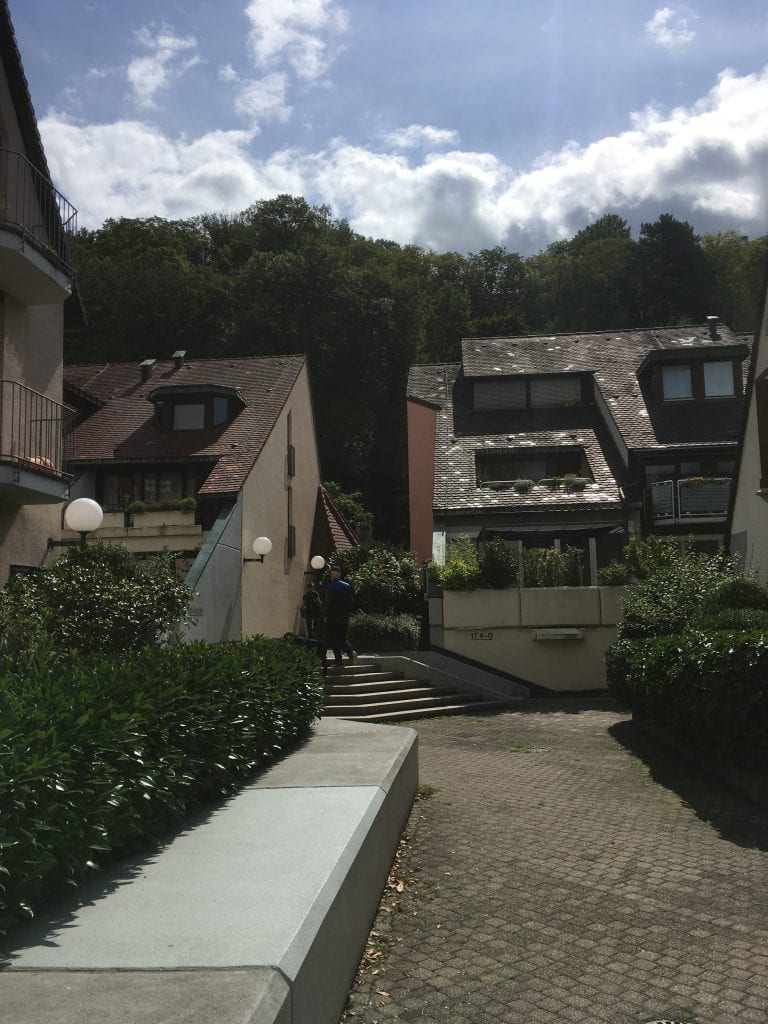 The New University Library with 70% energy reduction compared to the old one: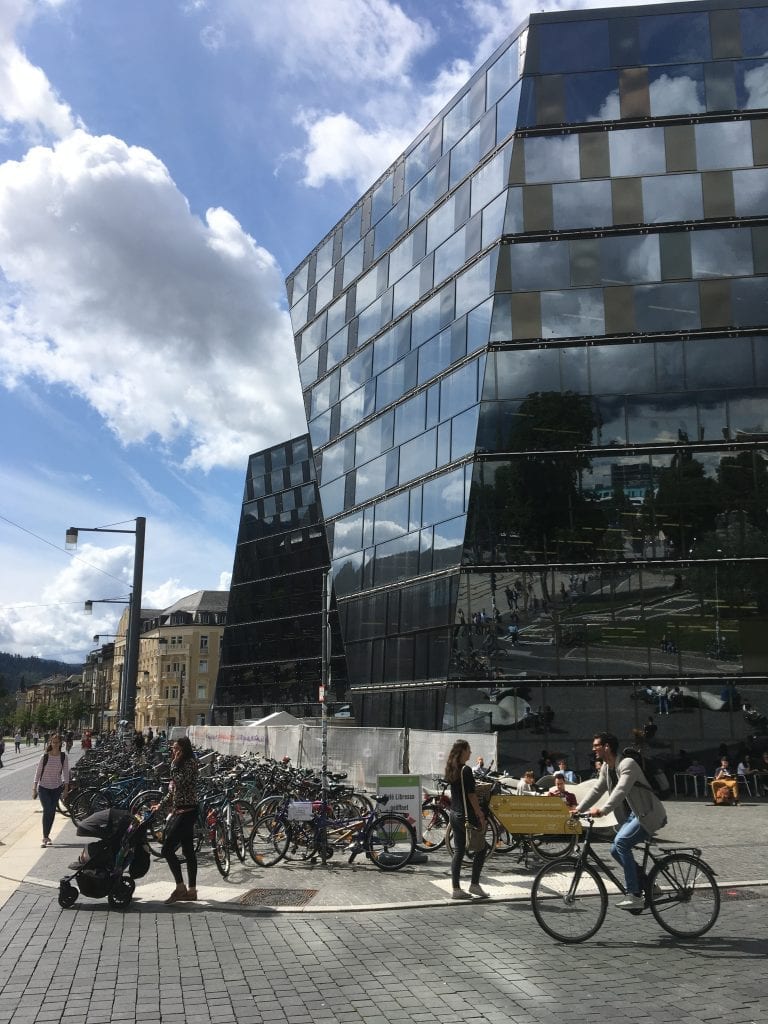 Surrounded by a great public space with seating and protection, the water channels running through Freiburg are from the medieval times and provided fresh water for cattle and natural cooling of the inner city: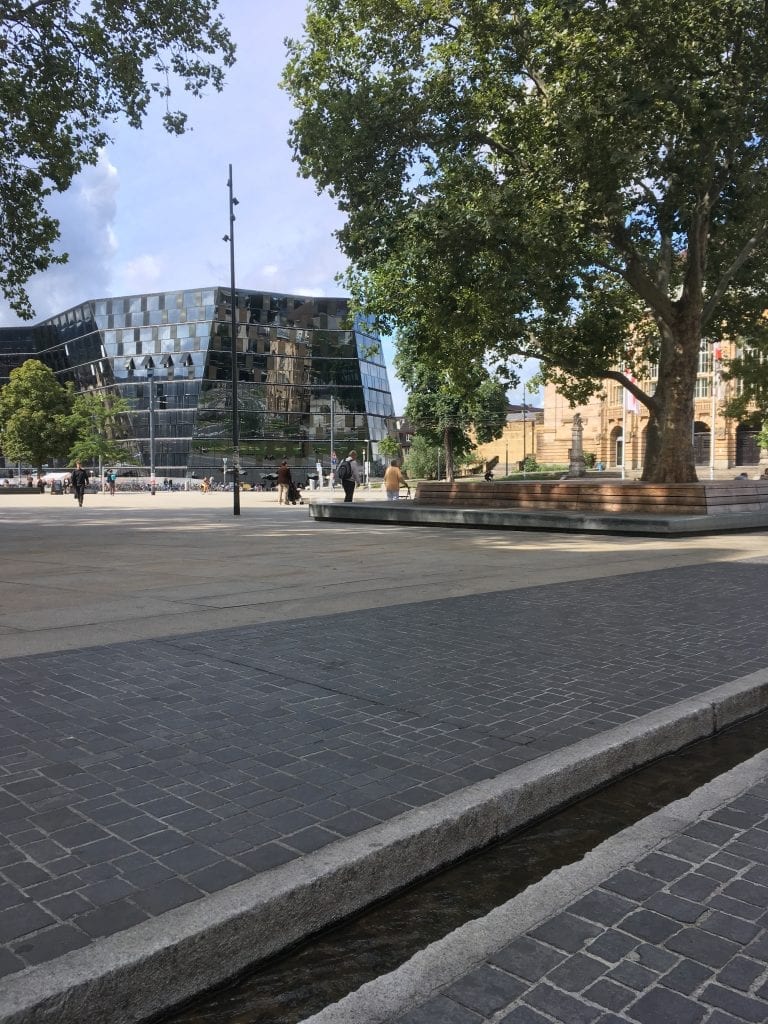 The city centre has plenty of activated streets with rain protection for the pedestrians:


Bike priority on the inner city streets – cars need to adjust according to bike and pedestrian speed.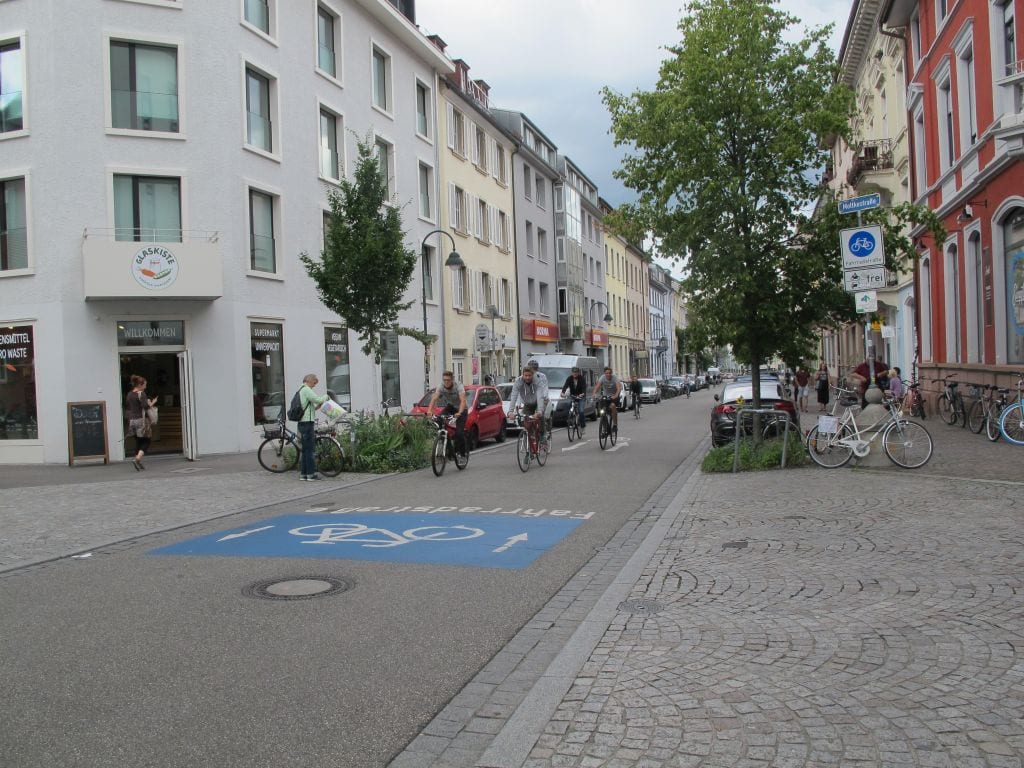 Next stop – learning about plus-energy public building, this is the new 26,000 sq. m town hall by Ingenhoven Architects focusing in social and environmental sustainability: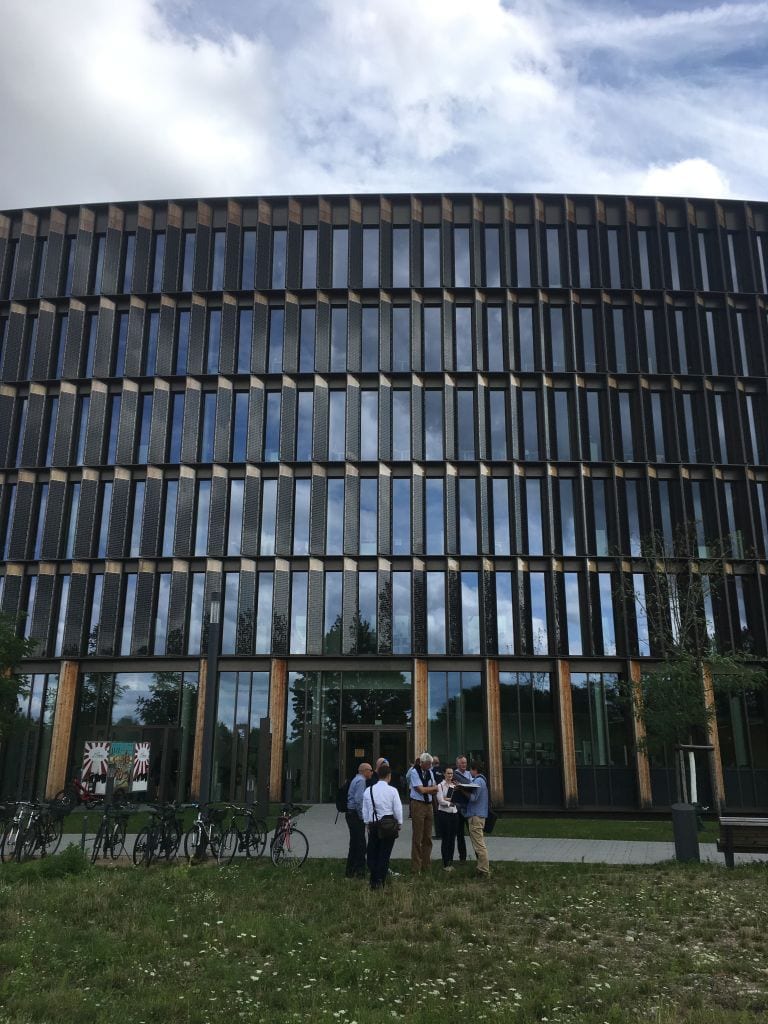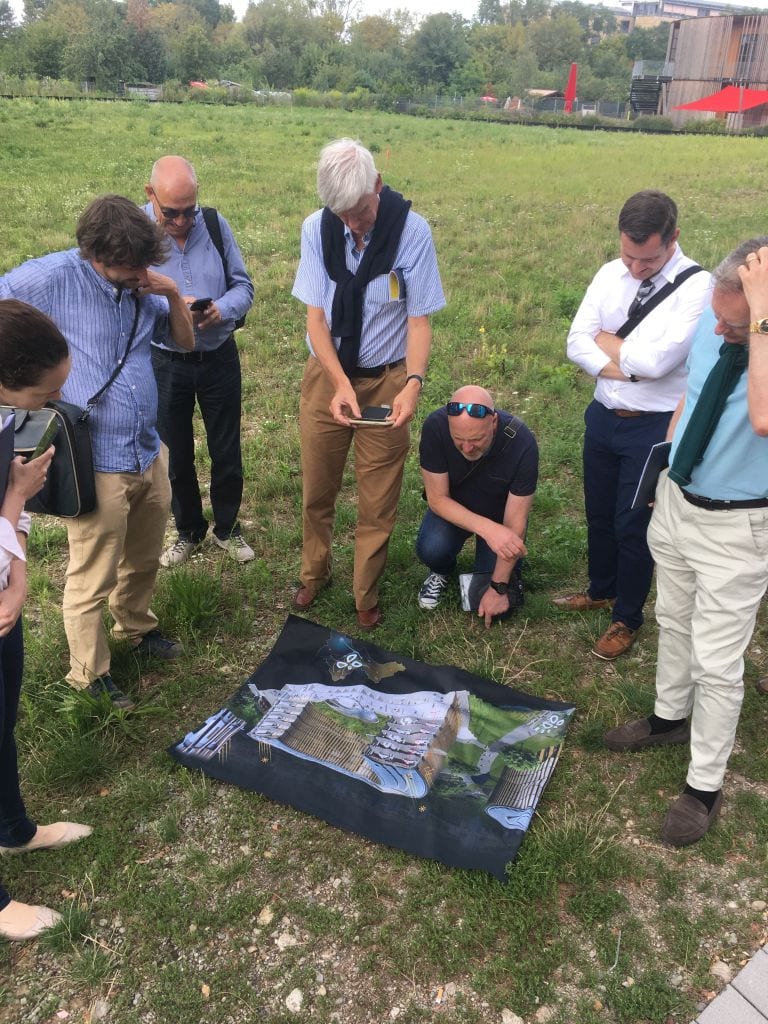 Solar panels integrated in the facade: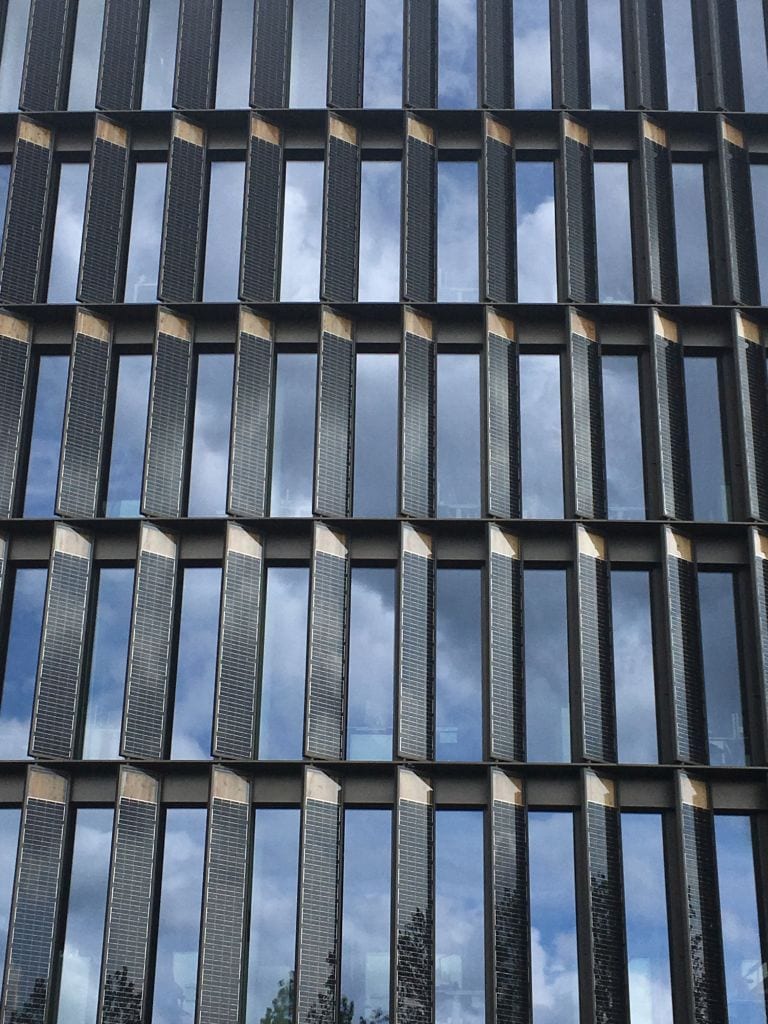 Internal green courtyard with skylights flooding the ground floor with natural light: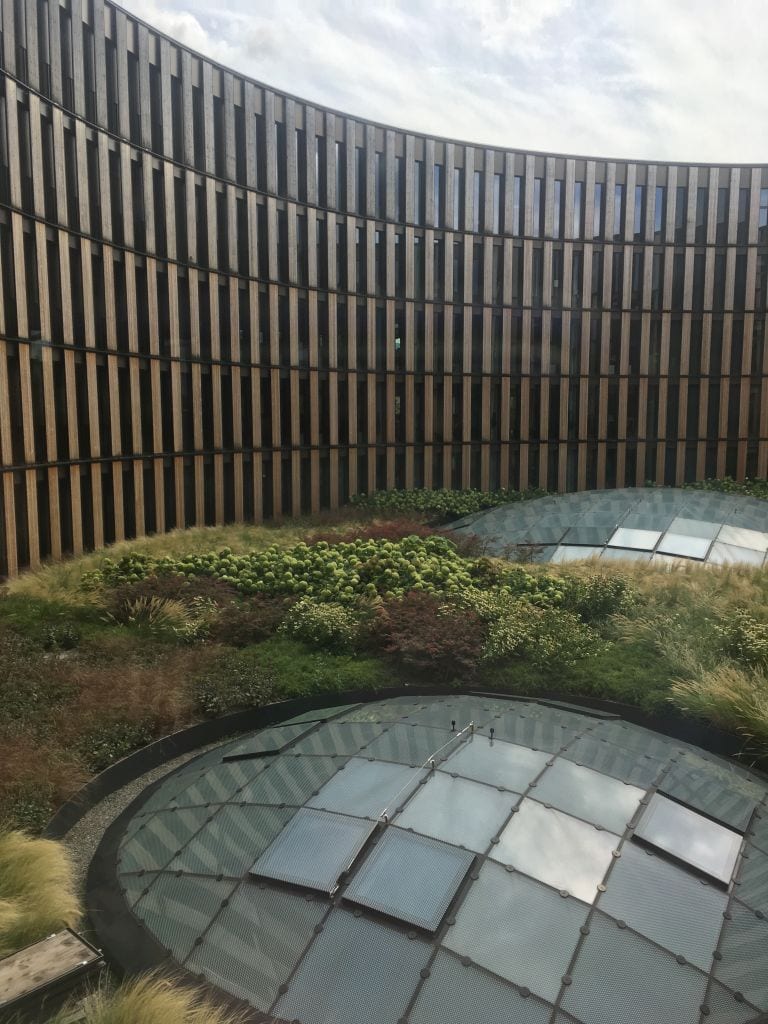 Light and bright finishes: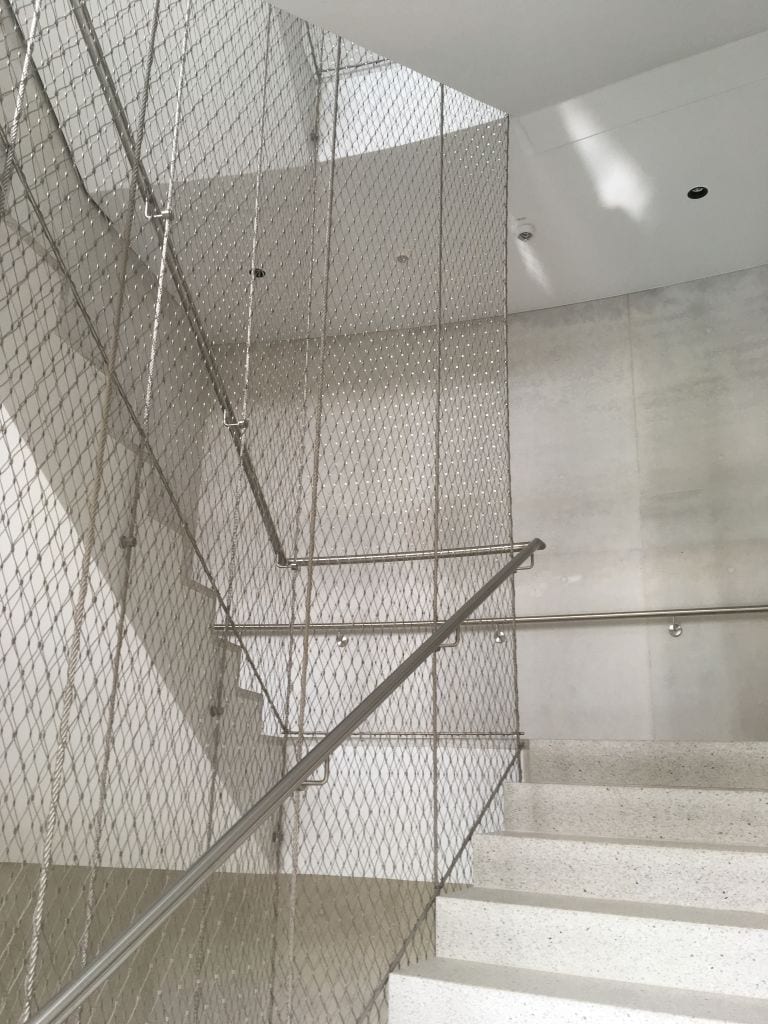 Wiengarten District – initiative to create a refurbishment model for Germany's housing estates, here refurbishment of four towers to passive house standards reducing energy demand with up to 80% whilst maintaining rental prices: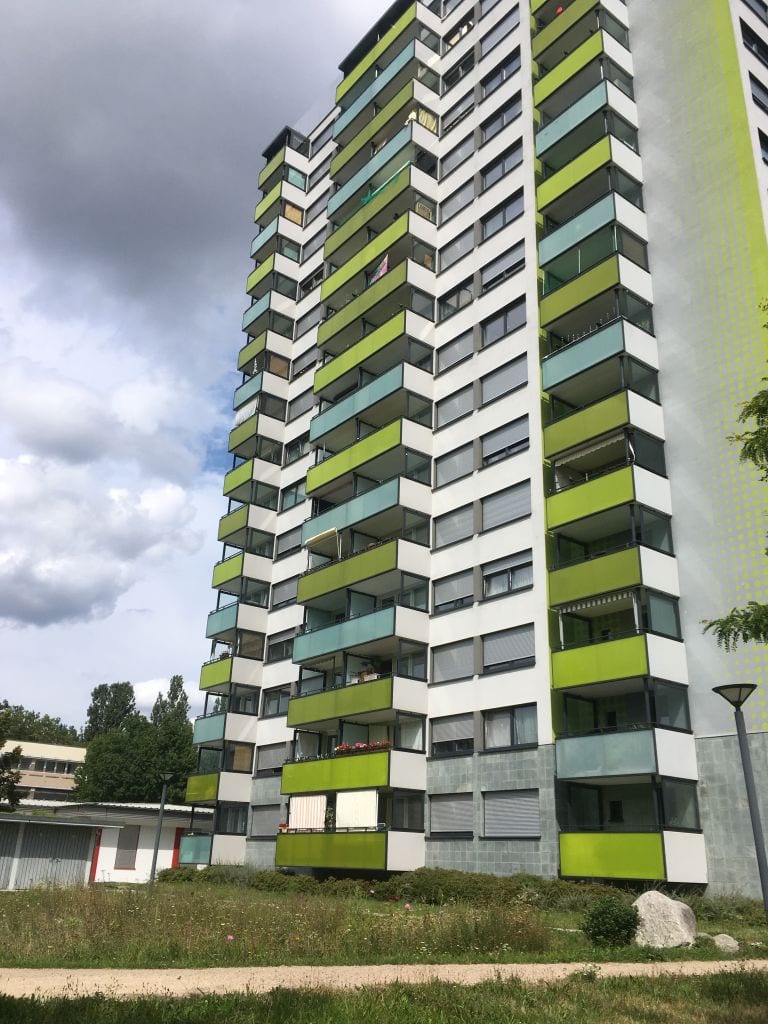 The project had a strong focus on social sustainability – making sure the community was involved in the refurbishment process, evident in the new 'neighbourhood library' below the building: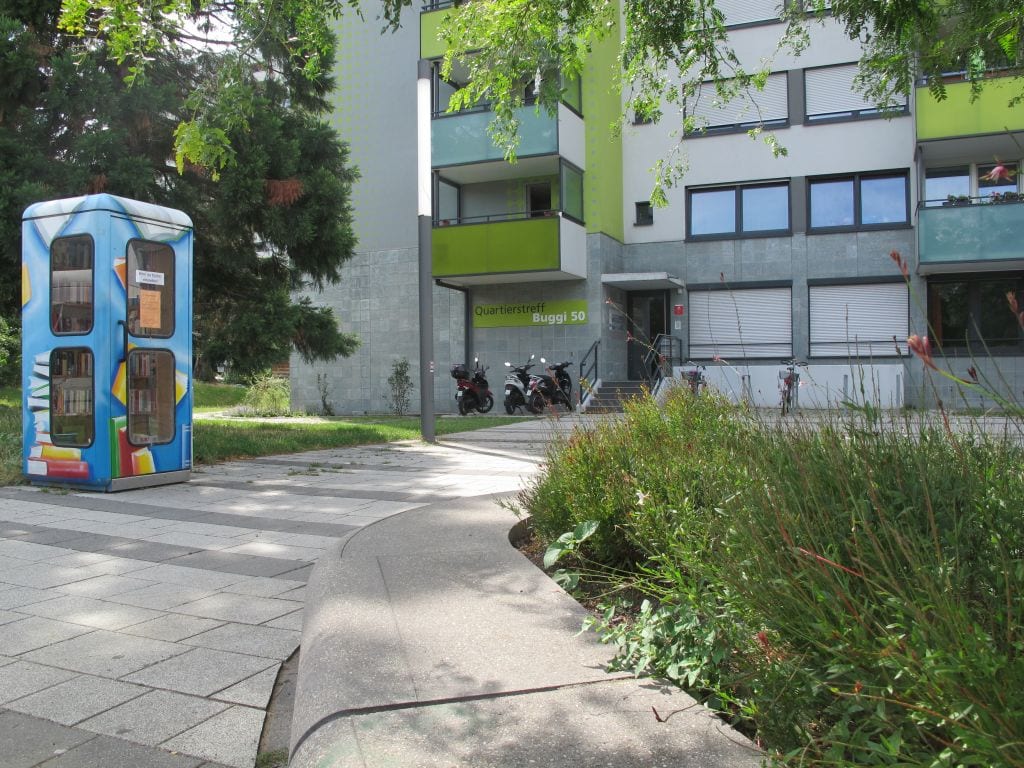 Off to Rieselfeld's 'play streets' designed for vehicular access whilst allowing kids a space to play safely: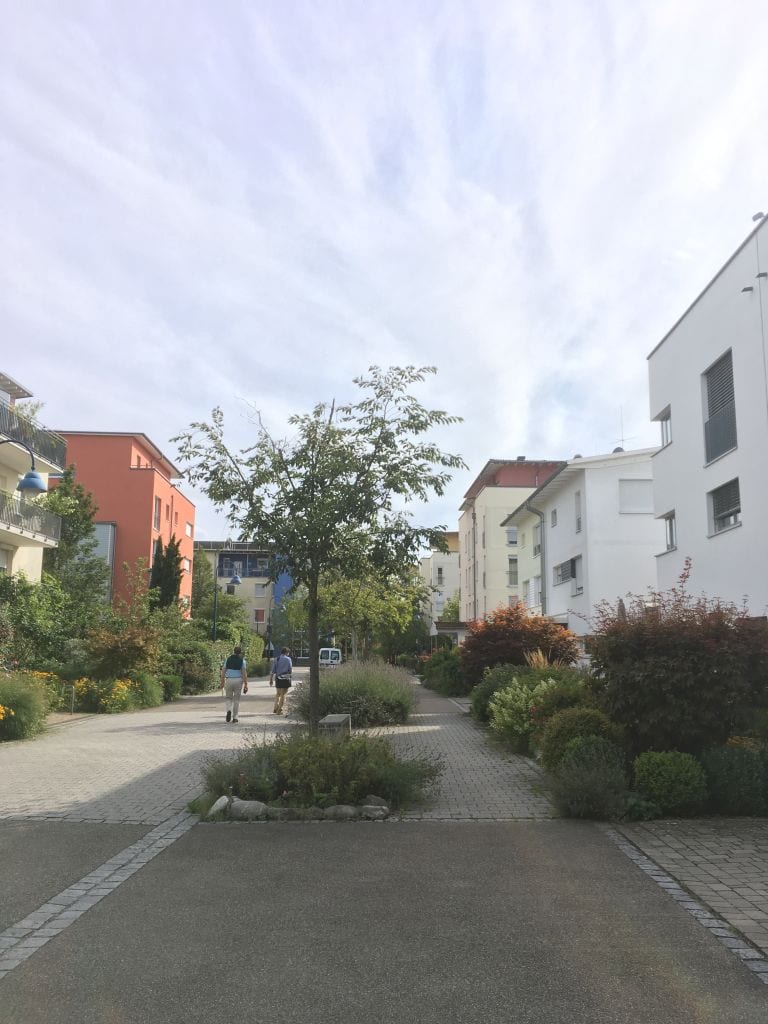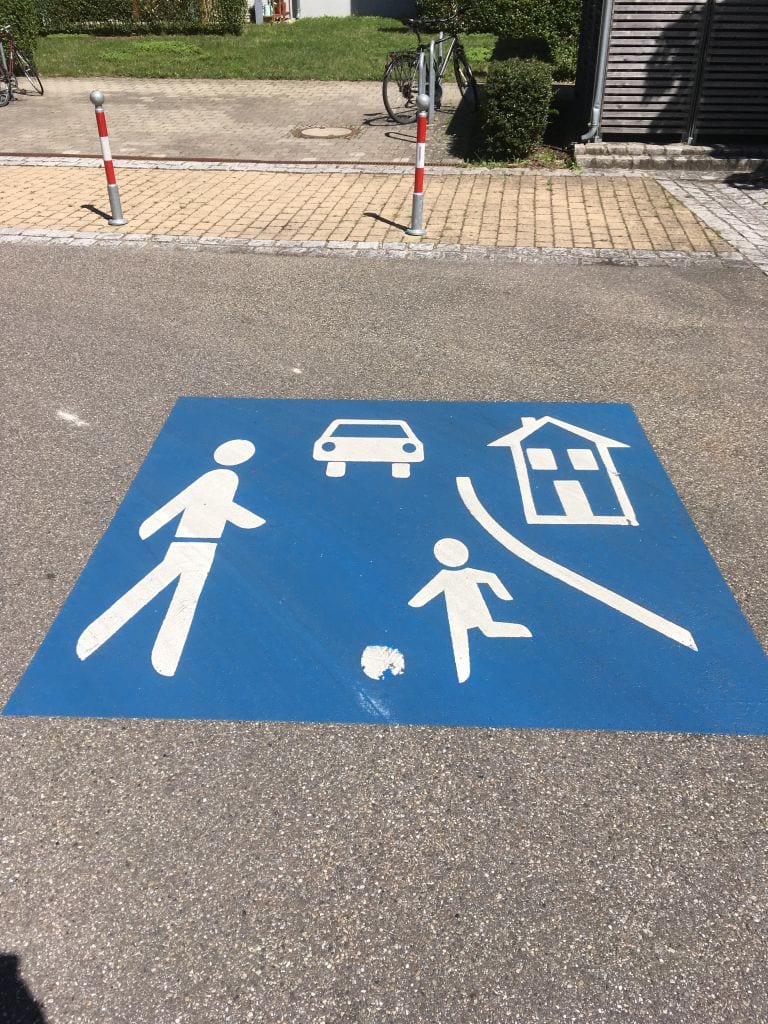 Showcasing that density does not have to equal less green: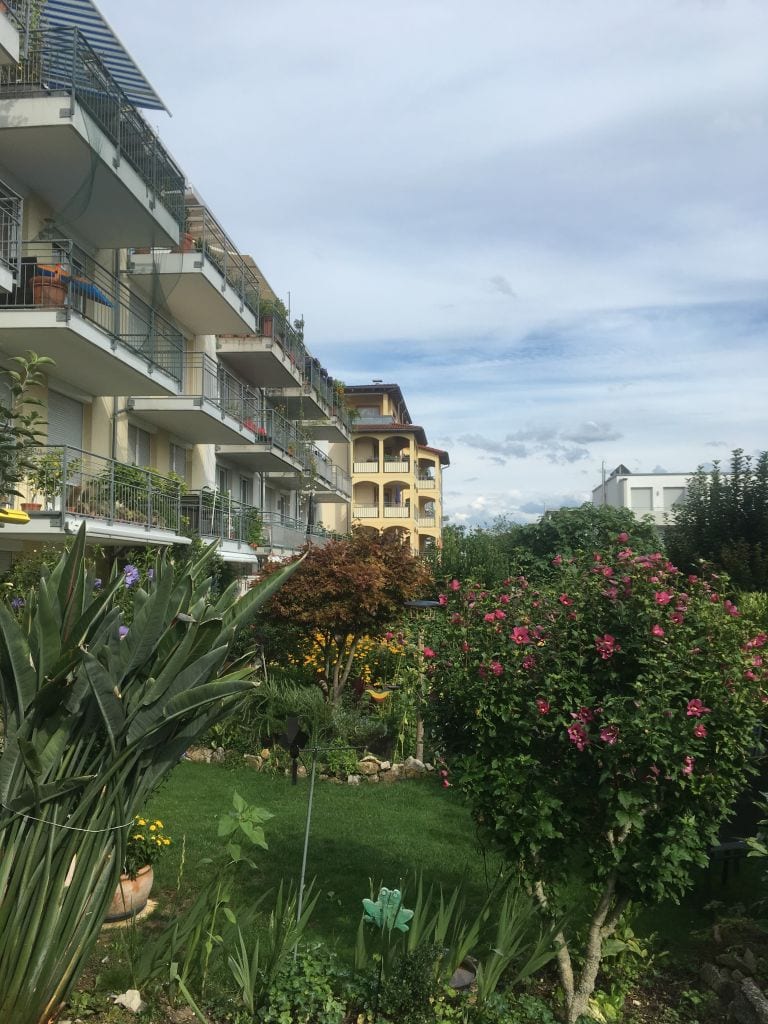 Community gardens for the neighbouring blocks: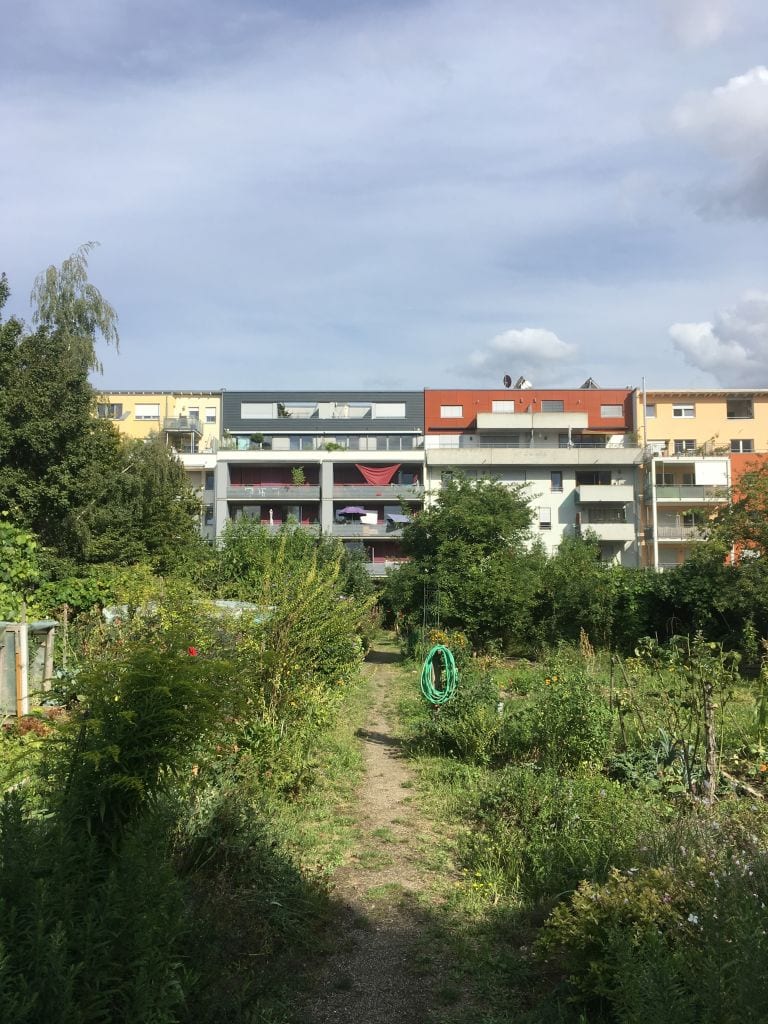 Safe pedestrian links: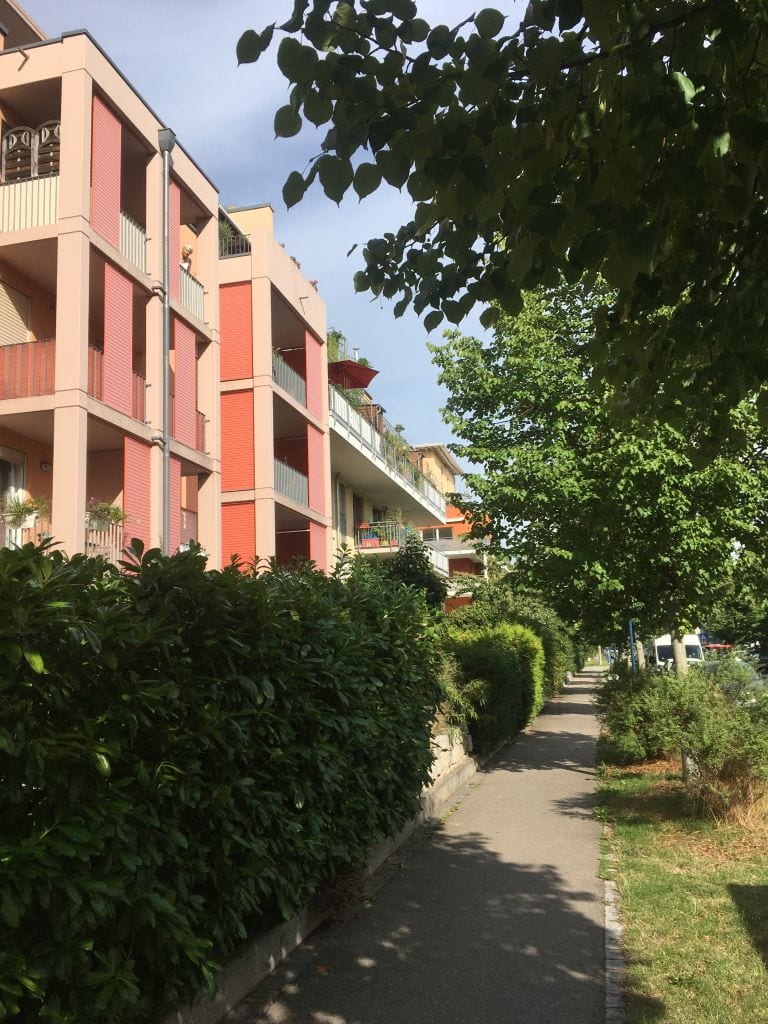 Day 2 started at the train station connecting Freiburg to the rest of the region (with 11 million inhabitants) for 60 euro/month: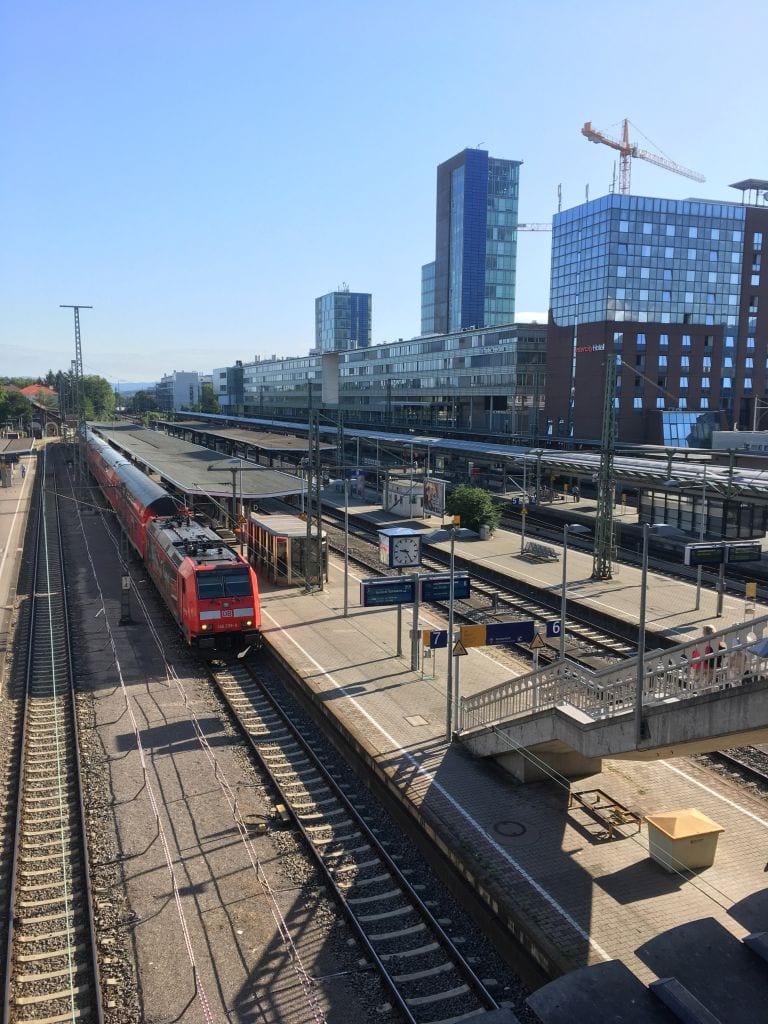 From there you can hop on one of the green tram lines, reducing noise levels, harmful air particles, increase biodiversity and is cheaper in the long run!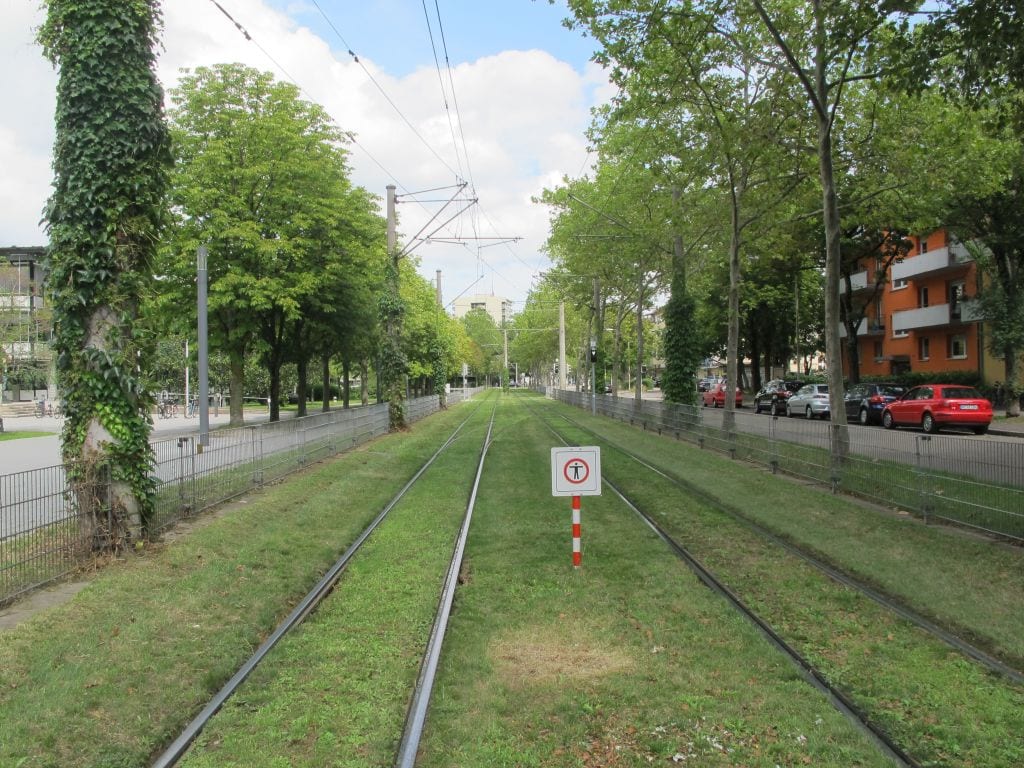 Or you can get a share car, rent a bike or have something to eat at this multifunctional transport hub: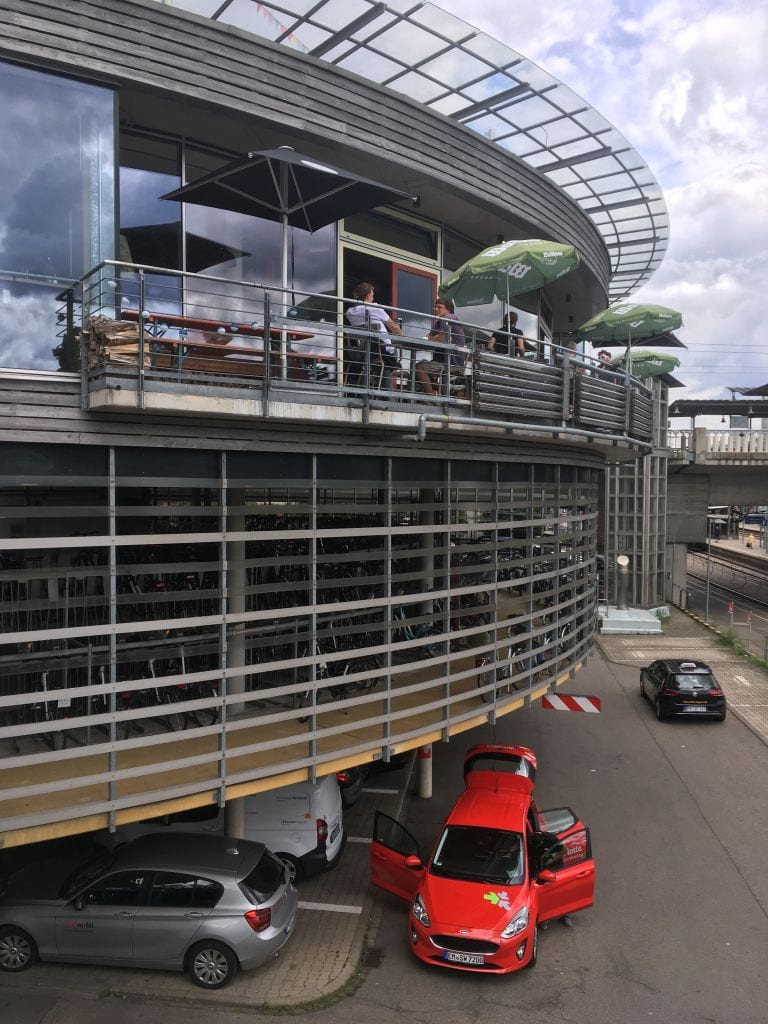 The team decided to jump on the bikes!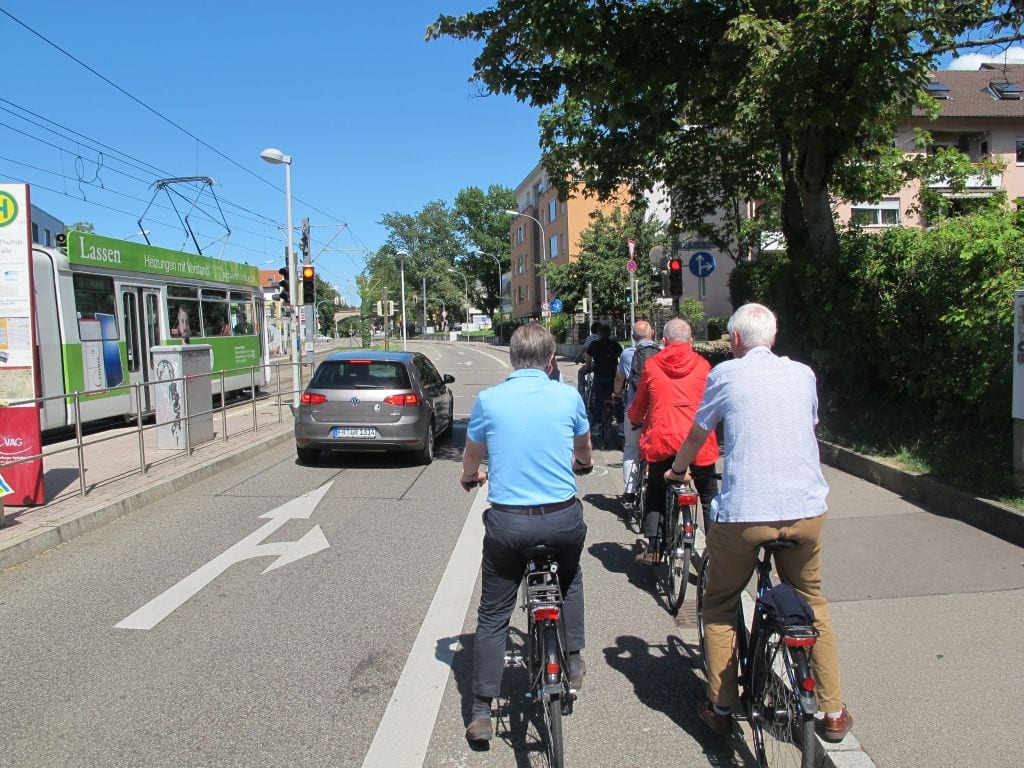 No space is forgotten in Freiburg – making it an excellent city to explore by foot or bike: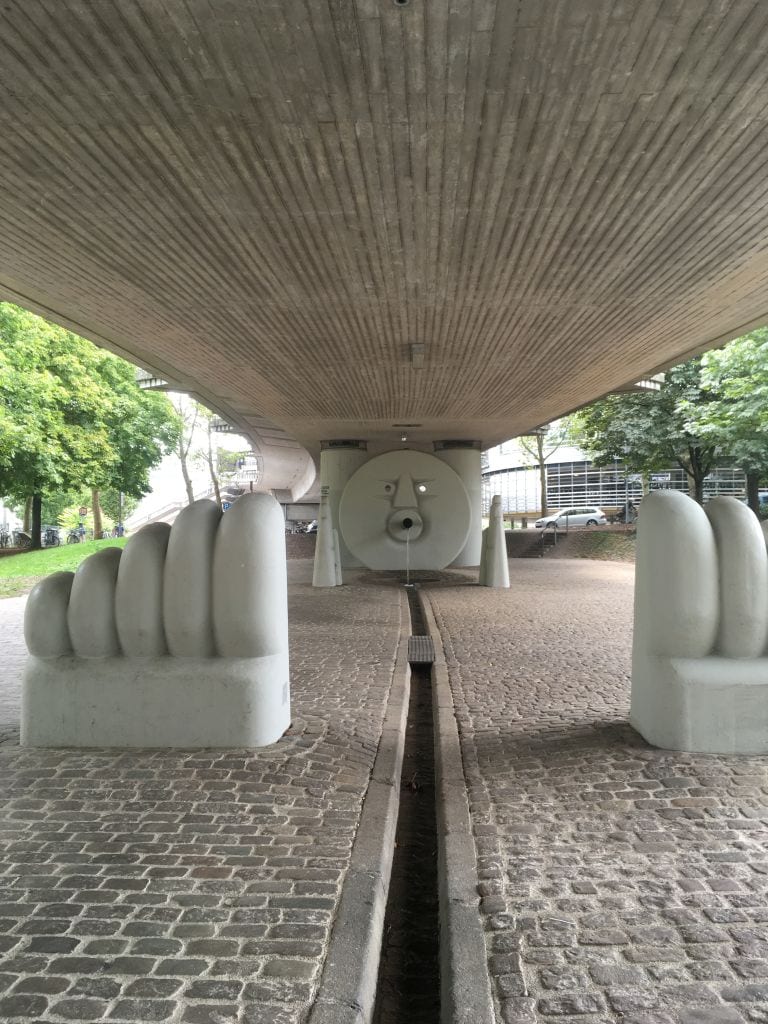 Our bikes took us through the new development of Gutleutmatten with 500 dwellings of which 30% dedicated to social housing, 30% co-housing groups and 30% for competition: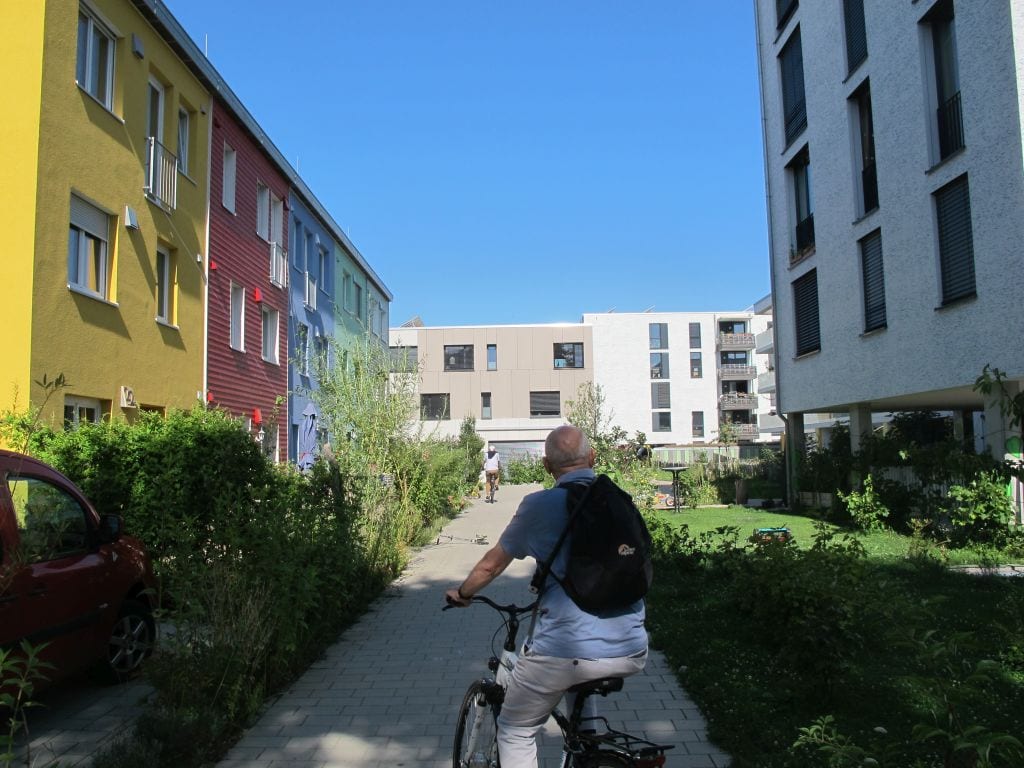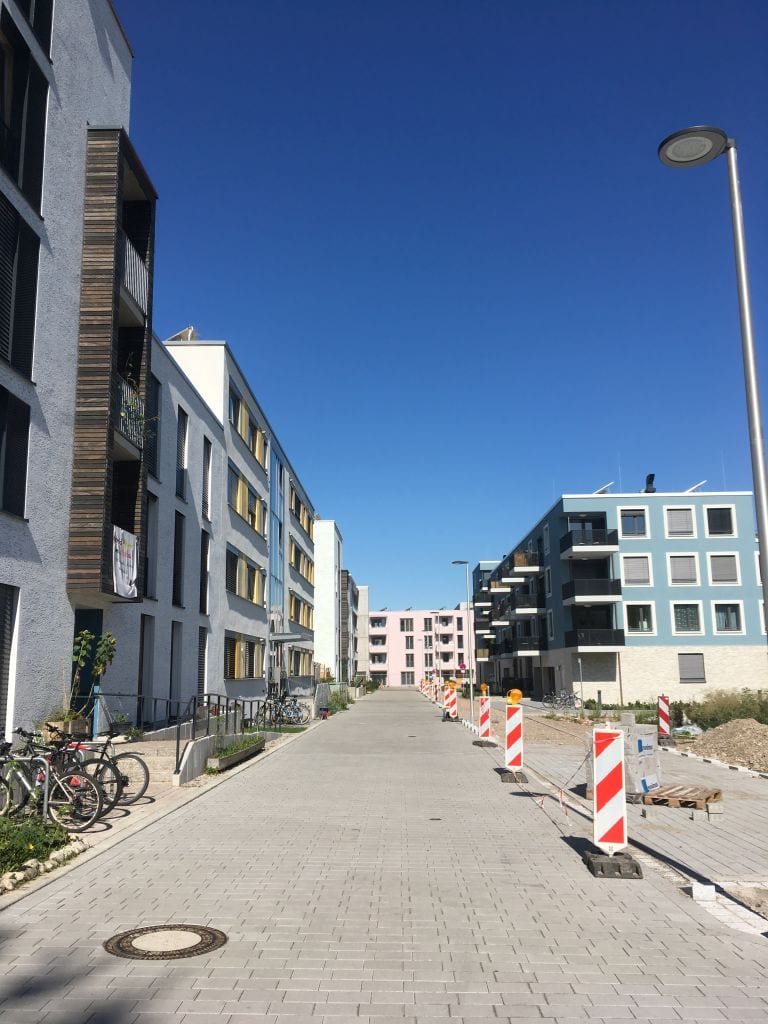 With interesting textures and inviting gardens for everyone to access: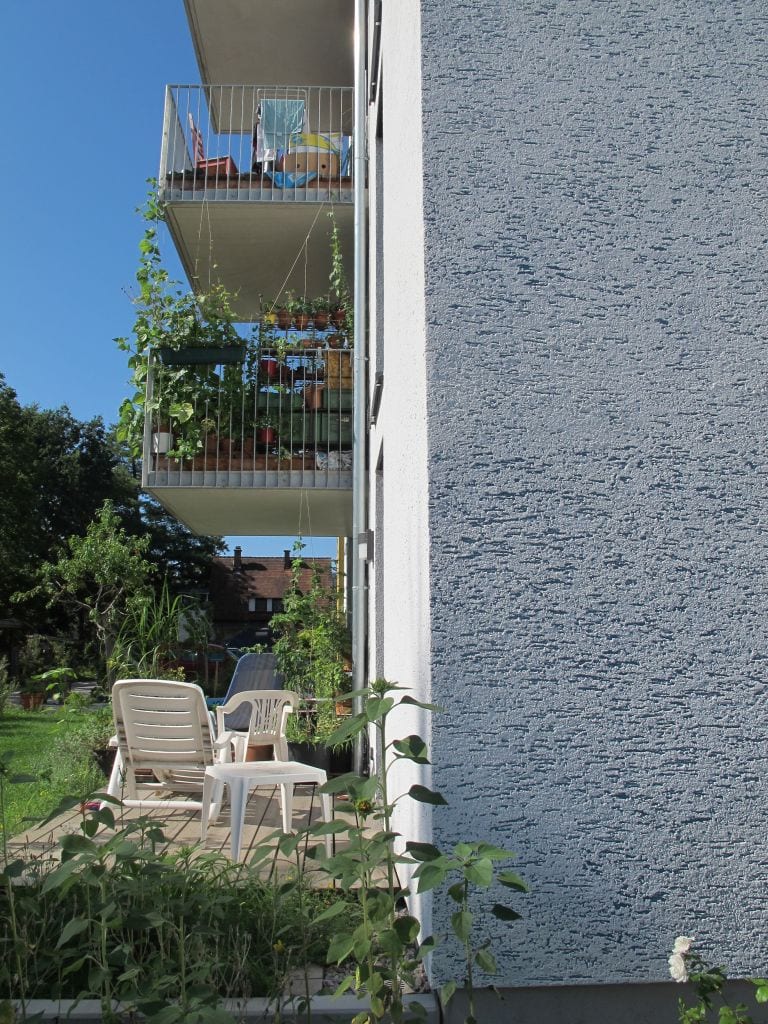 Enabling streets like this: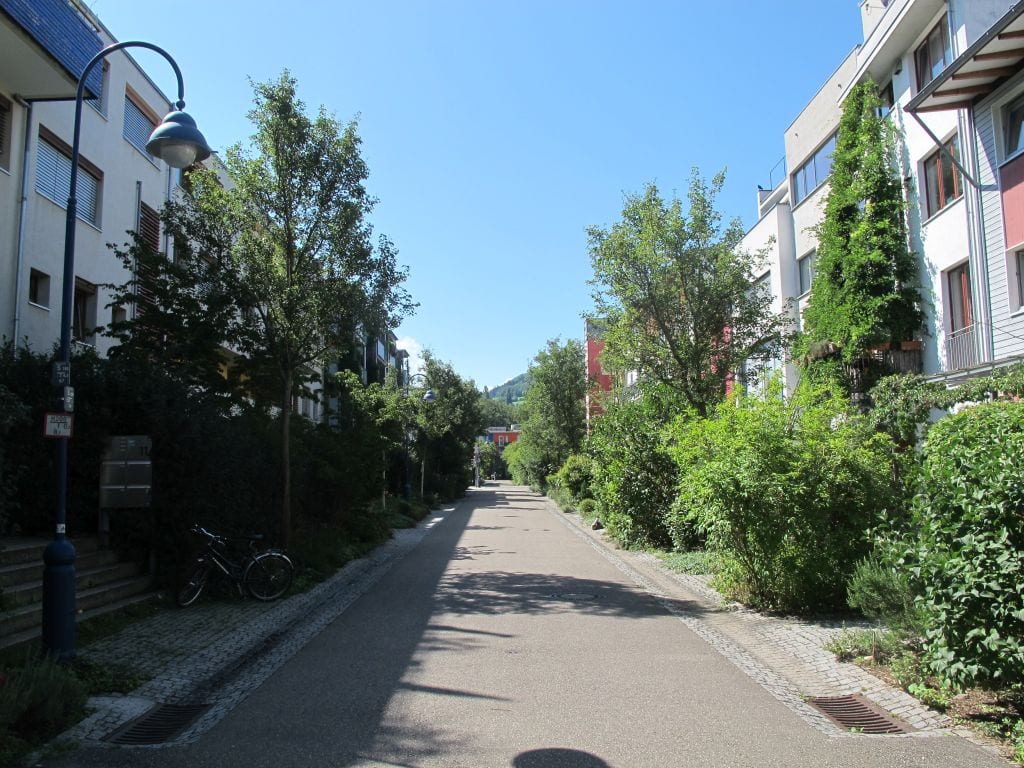 And places like these despite a density of 63 dw/ha: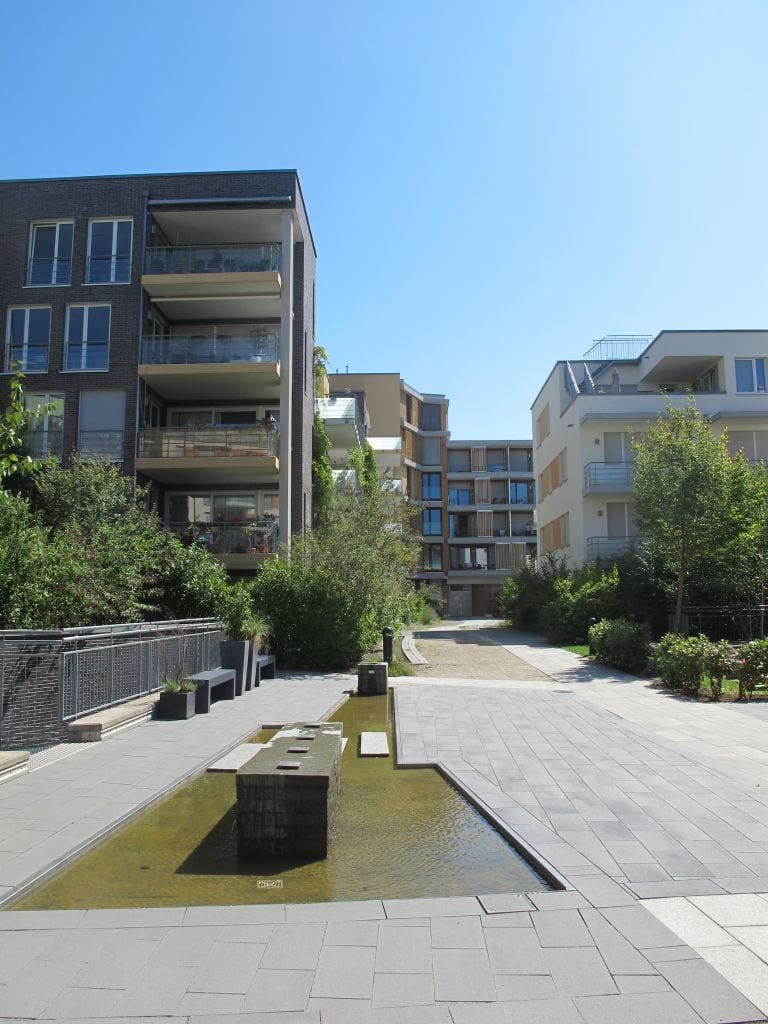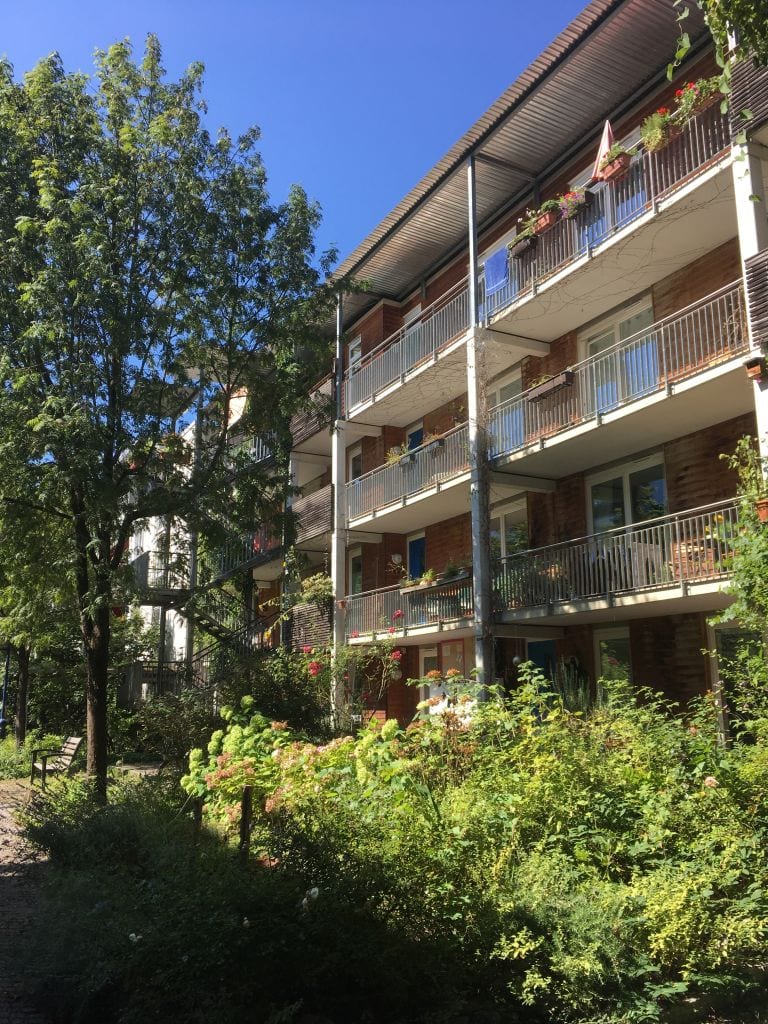 Front door to an apartment building: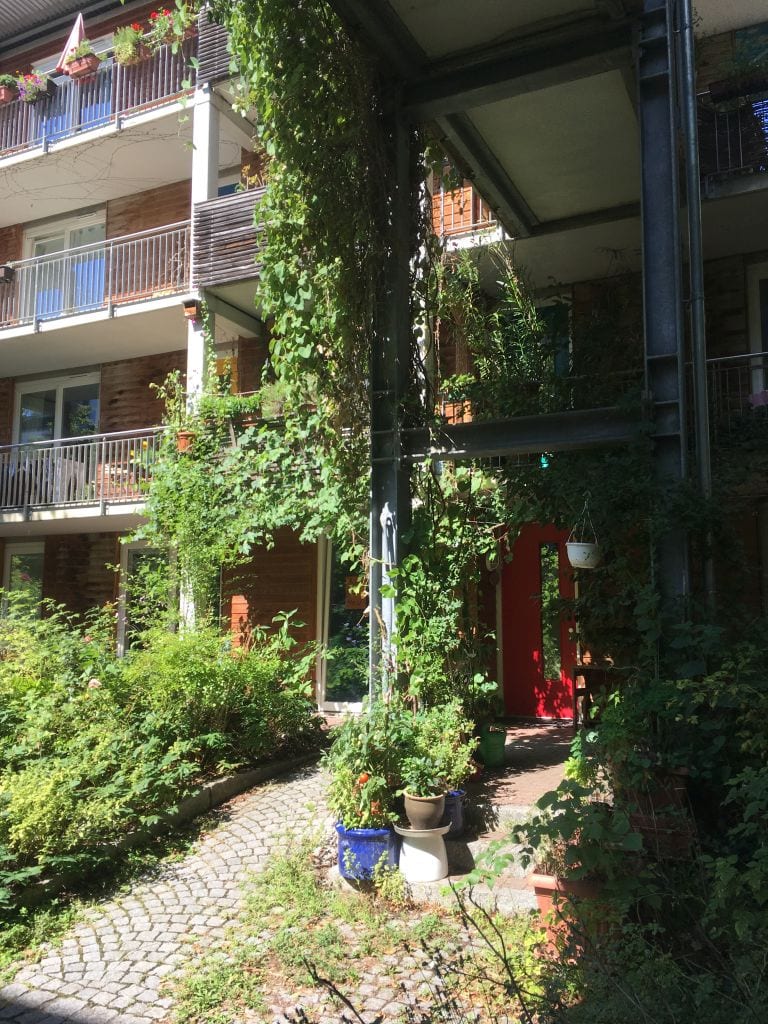 Mixed use development with offices and residential units: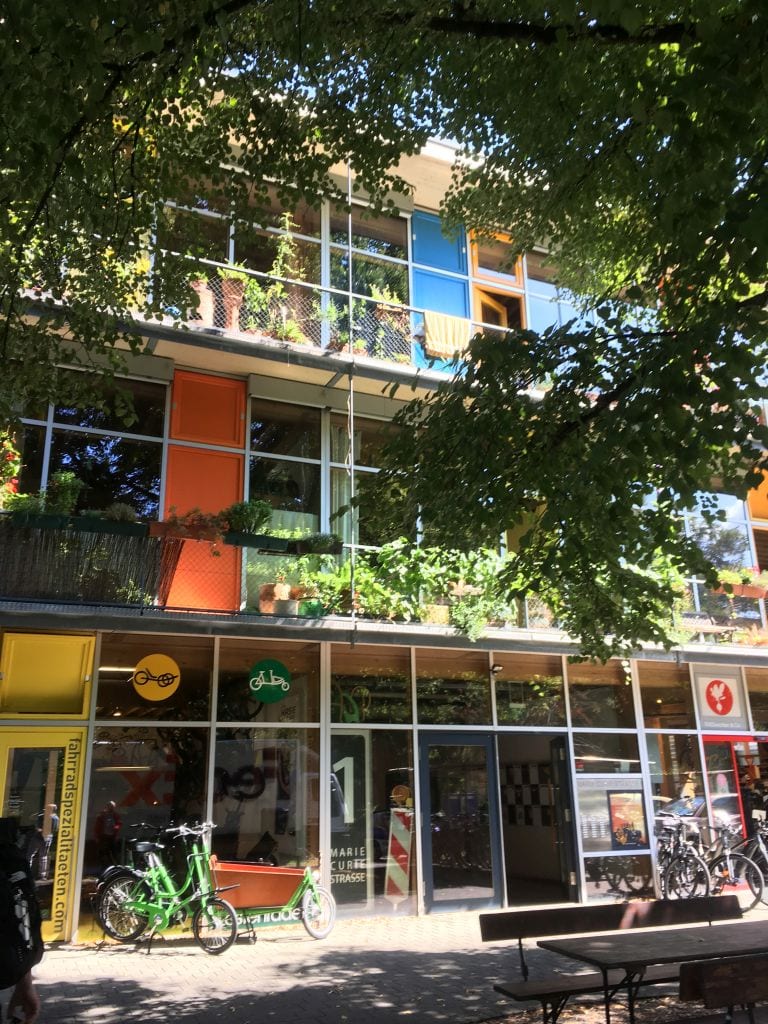 Variety of architectural expression and product – in Vauban there is a great mix of family living, students, senor living and assisted living. The masterplan allows for bottom-up decision making of appropriate use: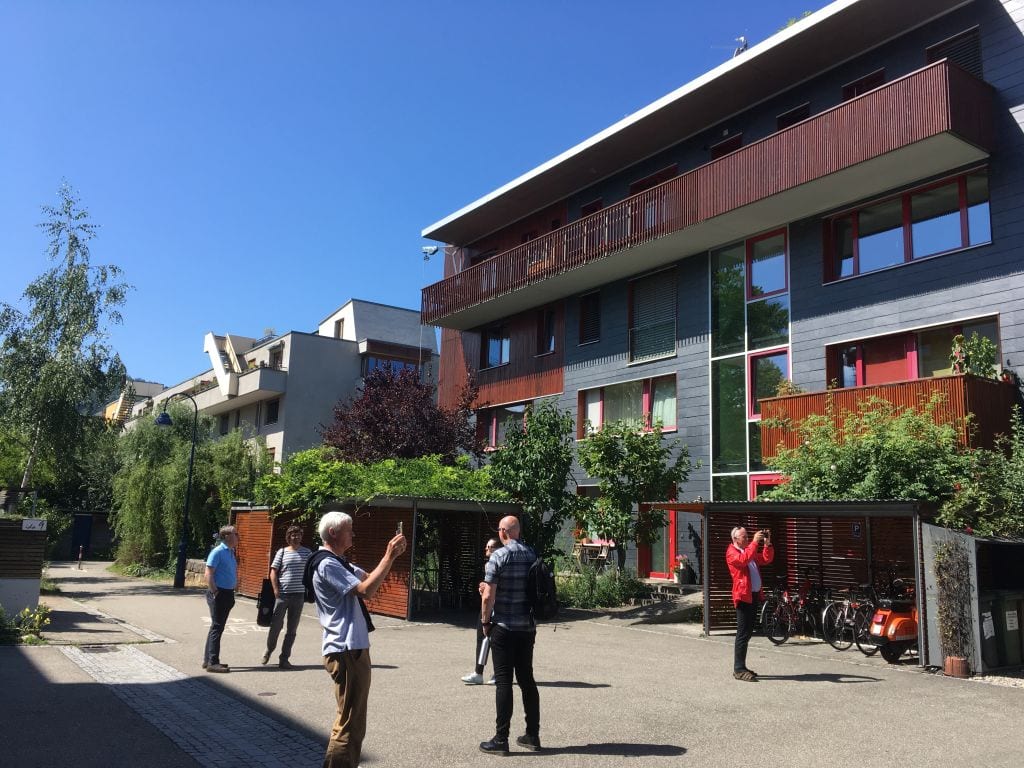 Views across the green tram line: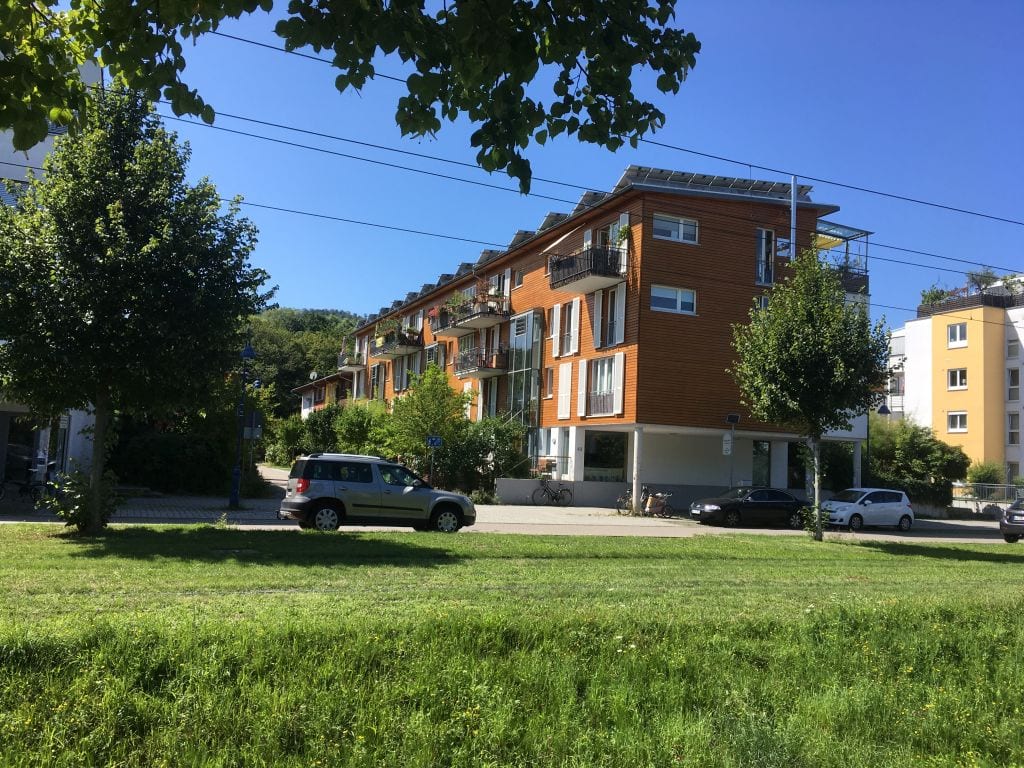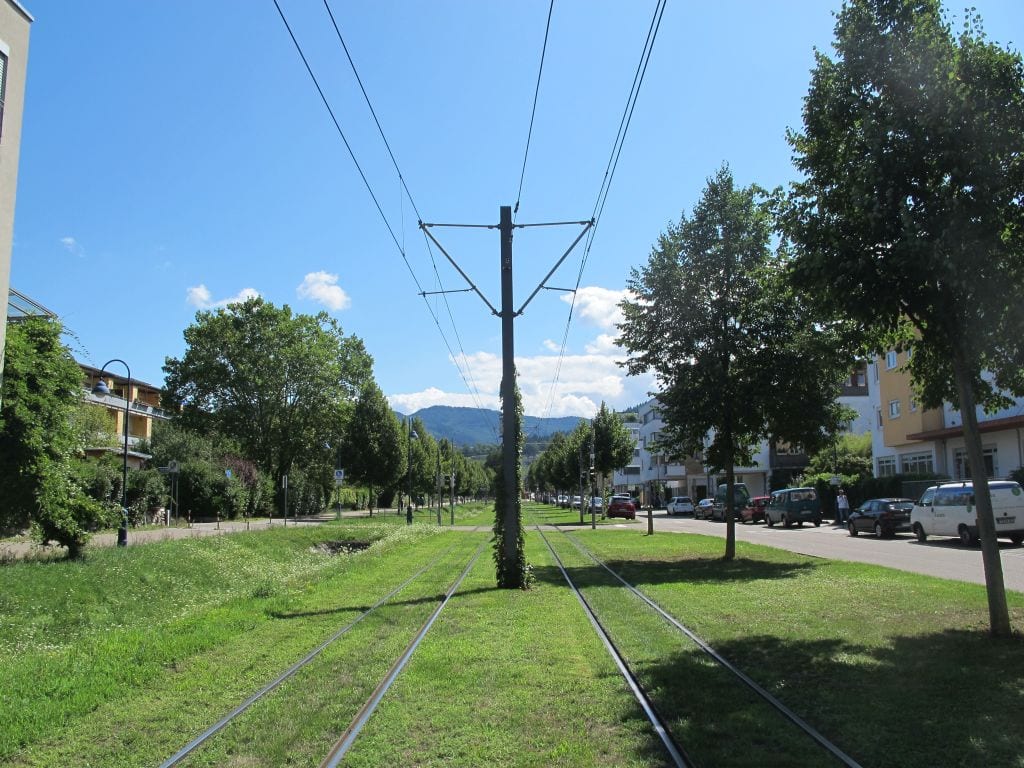 All neighbourhoods in Freiburg are planned according to the 5-min principles – to be able to meet your daily needs (shops, restaurants, pharmacy, school, public transport and kindergarten) within walking distance: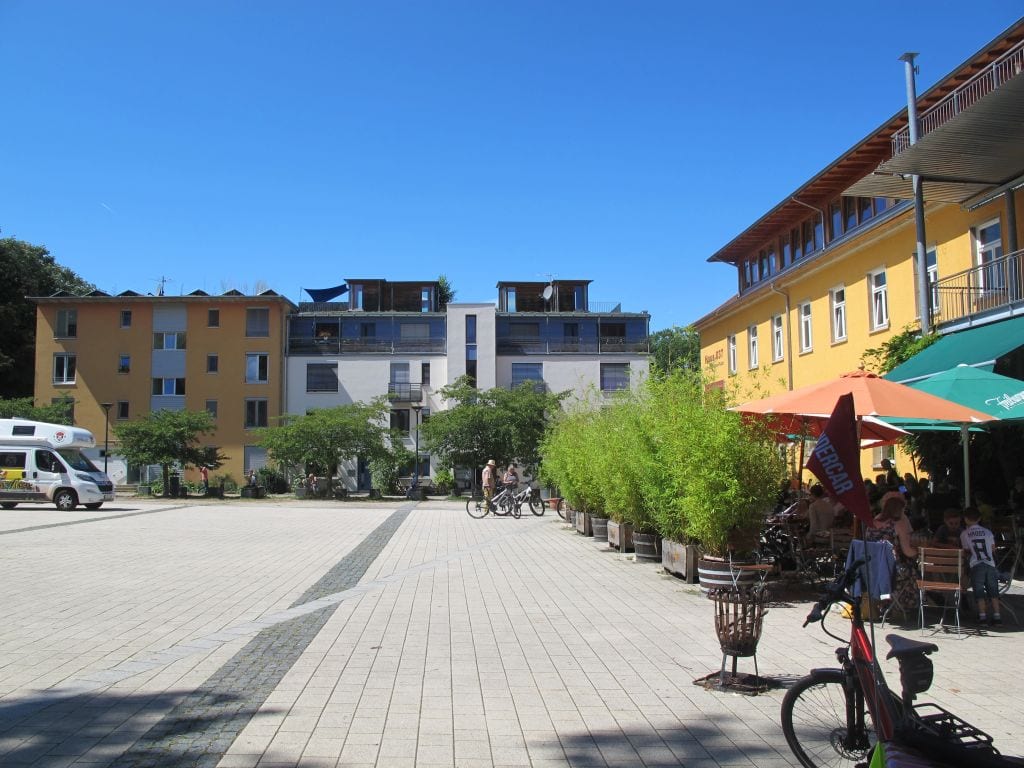 In the neighbourhood square above they have a local market twice a week. Protected seating whilst waiting for the tram to arrive: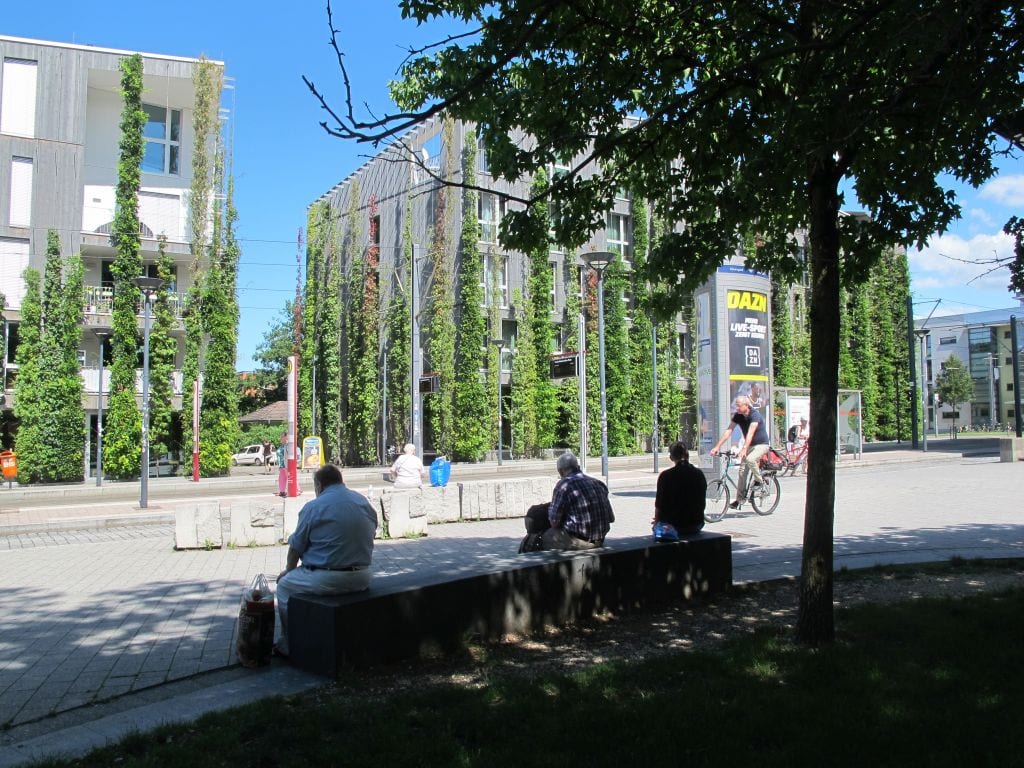 Next stop – Solar Settlement in Vaubann: 70 Plusenergy homes and office building by famous solar architect Rolf Disch completed in 2002: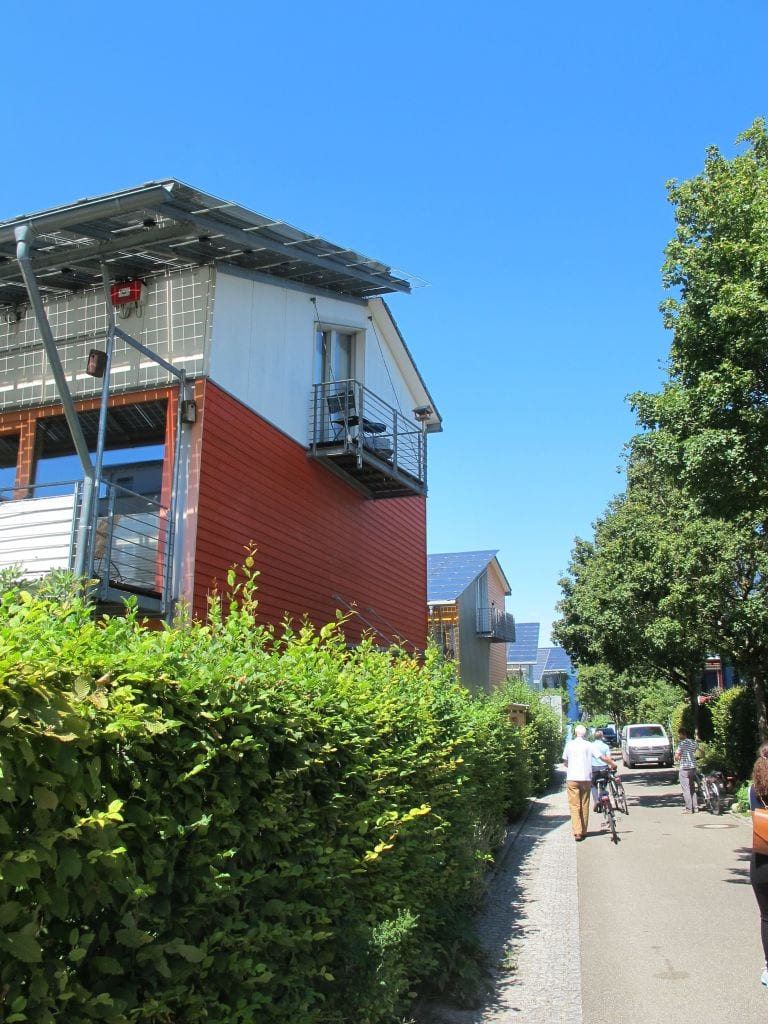 Prefabricated timber housing for arriving refugees and students – shared social spaces enables interaction with locals: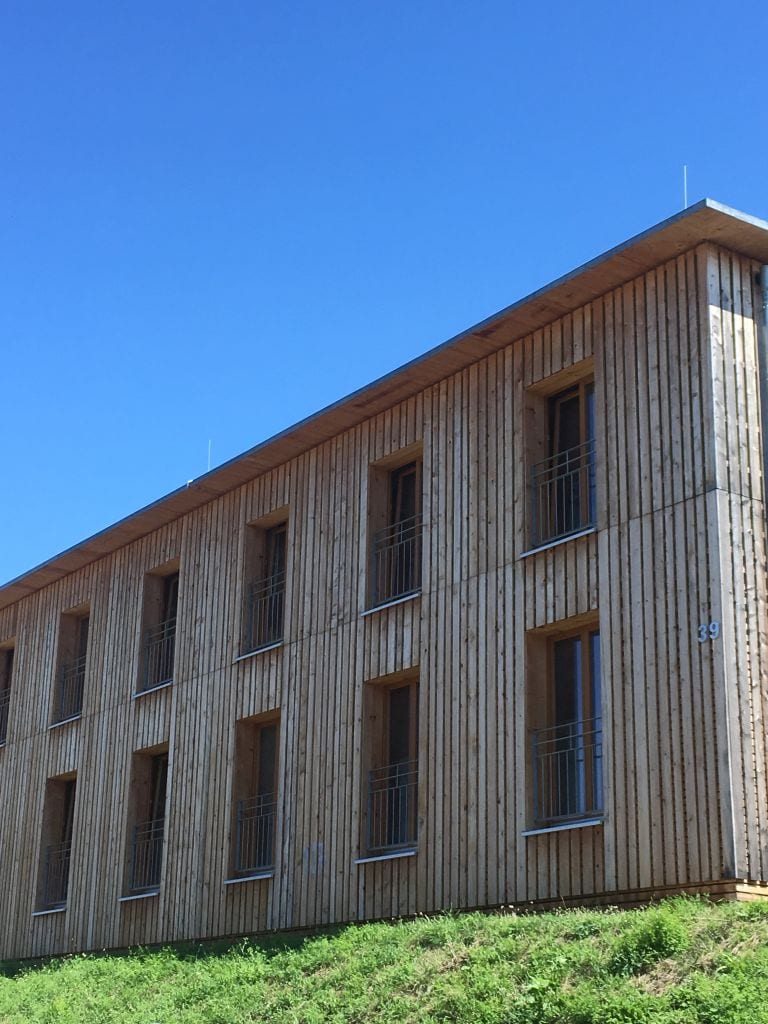 New development with local shopping centre, town square and social housing in prime location for access to public transport and daily needs: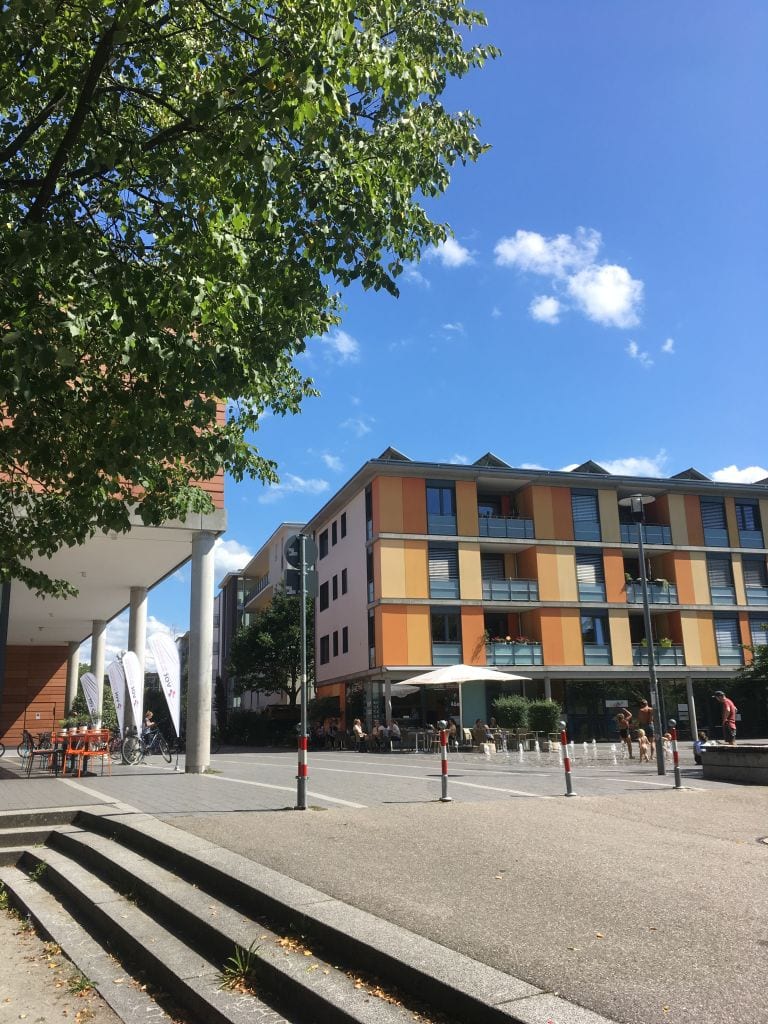 This area is developer-led and still encapsulated the Freiburg principles of low-traffic streets, greenery and housing to meet a variety of needs: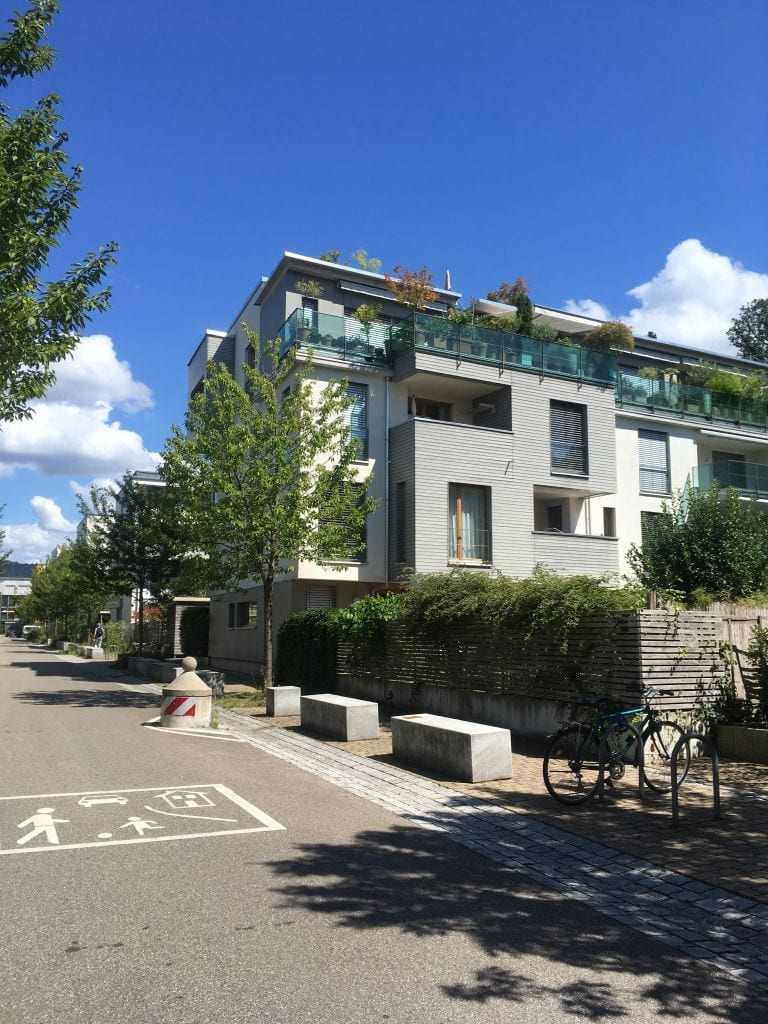 Pocket parks everywhere!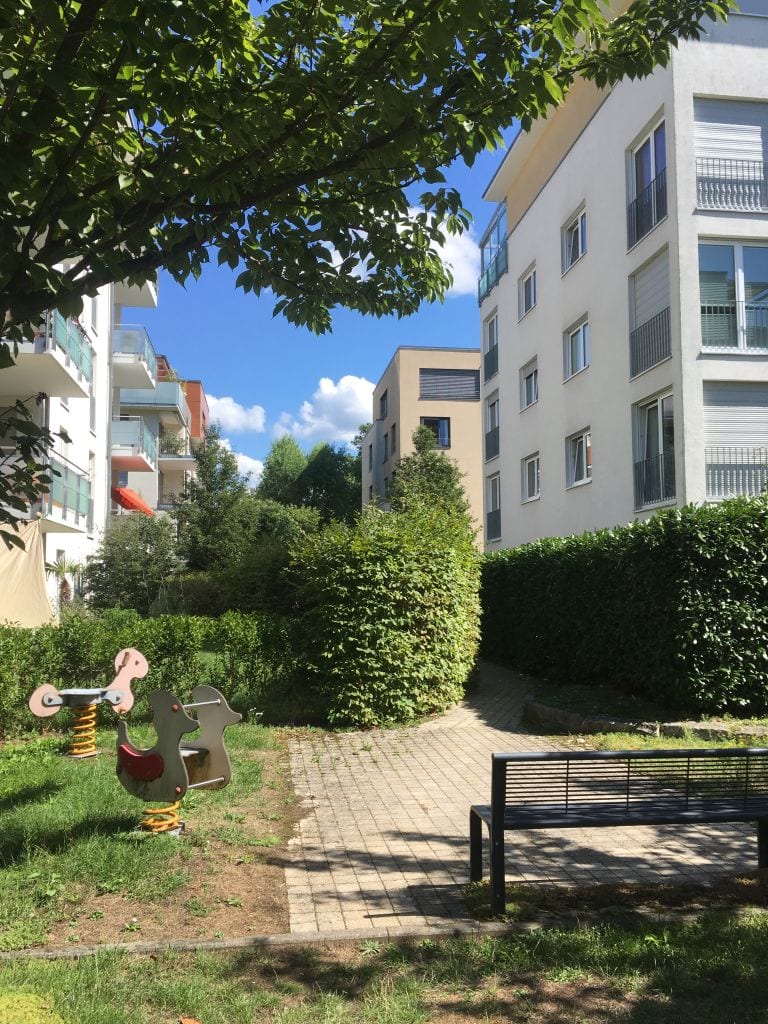 Back in the city we biked through Freiburg's old canal streets: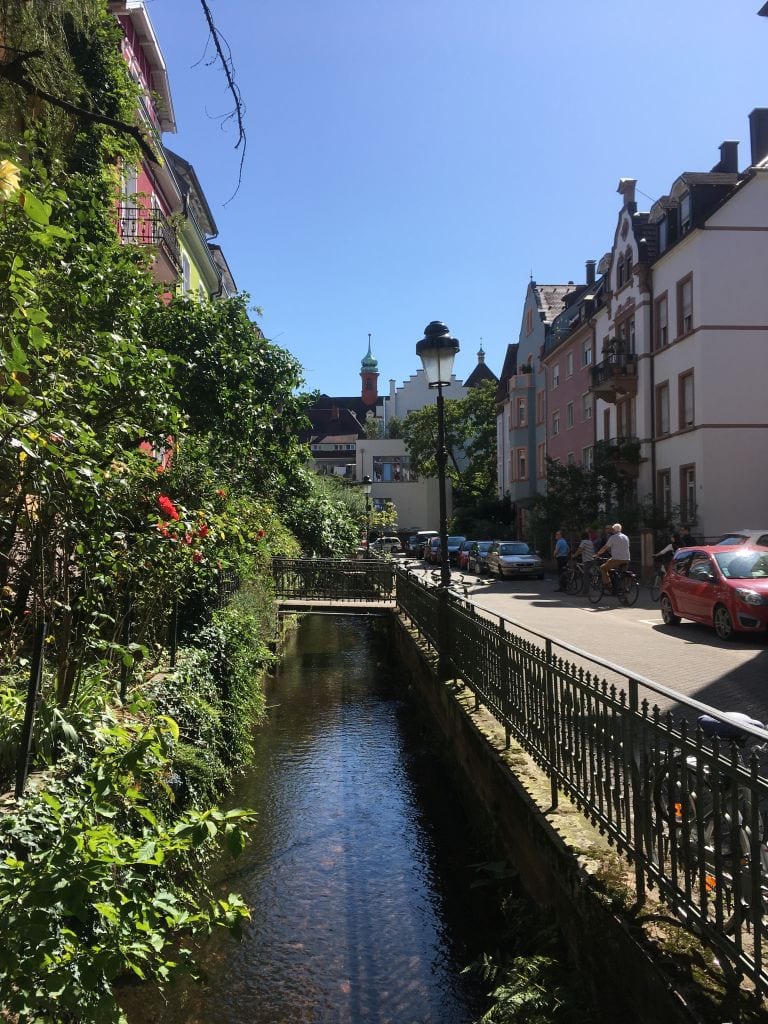 Freiburg's website has even more information about the city's approach to sustainability.