The Greenbuild international conference and expo, presented by the United States Green Building Council (USGBC), concluded earlier this month in Chicago. The 17th edition of the conference explored the connection of the built environment to climate change, health, human rights, and equity.
The theme for this year's Greenbuild was 'Human × Nature'. According to Greenbuild, the theme represents how the green building movement embraces all of humanity by making sustainable buildings and environments accessible to everyone while benefitting the natural environment.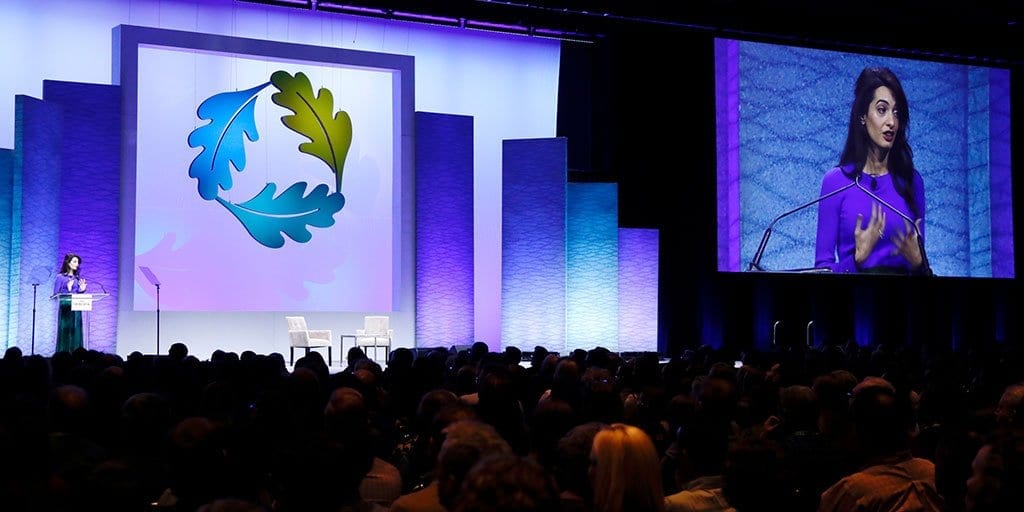 Human rights lawyer and humanitarian, Amal Clooney, delivered a keynote that discussed her work and spoke of the role the green building community plays in addressing today's challenges, "Despite [these] challenges, I am optimistic. Because all around the world I see that even where governments fall behind, individuals and companies can make a difference," said Clooney.
"In the past, we have delivered on our promises of certifications, signifying high quality spaces in which we can live and work," said USGBC's president Mahesh Ramanujan. "Now, by harnessing the power of our partnerships with companies and organizations the world over, we will explore creating a new campaign, a Living Standard that indicates an environment is healthy and safe for all who inhabit it, from buildings, communities, cities, and to entire nations."
Several programmatic updates to the Leadership in Energy and Environmental Design (LEED) rating system were announced throughout the week.
Once again Sean Hogan, RKD's group sustainability leader, attended Greenbuild to meet with representatives of USGBC, discuss challenges to projects seeking green building certification and to meet with International Well Building Institute, the leading global movement to transform our building and communities in ways that help people thrive.
IWBI delivers the cutting-edge WELL Building Standard™, the leading global rating system and the first to be focused exclusively on the ways that buildings, and everything in them, can improve our comfort, drive better choices, and generally enhance, not compromise, our health and wellness.
Again, Sean discussed the challenges and opportunities on various projects within RKD seeking WELL certification.
And we partied!
We're already looking forward to Atlanta 2019!