Exploring Sustainable Alternative Uses for Stranded Assets
One of the most significant challenges right now is figuring out what to do with older stock office buildings. There is a reduced demand for office space in the city and a flight to quality to new build best in class stock. Vintage office buildings are increasingly expensive to refurbish and upgrade, while demolishing them is becoming more difficult to justify. These buildings are being described as stranded assets, and we are seeing many building asset owners and developers looking to alternative uses.
The main reason for this reduced demand for certain office buildings is the shift towards remote work, as many companies are adopting flexible working policies. There is also a growing necessity to meet environmental, social, and governance (ESG) targets associated with the built environment. The most recent development plans have stricter requirements for building demolition justification. Concrete office buildings of the mid-late 20th Century era are not as easy to justify demolition as they were several years ago.
Climate change, and the high carbon footprint embedded in the existing structures are key factors associated with these challenges. Repurposing less desirable office buildings for alternative uses can help address these issues, to reduce the carbon footprint of construction while bringing new life to existing established urban areas.
In addition to these environmental concerns, there are also economic factors driving the repurposing of office buildings. Inflationary pressures on construction costs, combined with uncertainty in the market, are making it more difficult for developers to finance new construction projects. By repurposing existing buildings, developers can save on construction costs, and reduce the time associated with new construction.
There is sometimes an added benefit of the revenue streams from existing assets, while planning for the new project. It is also common for these buildings' sites to have underdeveloped area to the rear, side and even on the roof. There is potential to add value by increasing the overall building area, density and by finding opportunities to create additional amenities like roof gardens.
Another common feature is blank facades or parking at ground floor which detracts from the city streetscape. There can be opportunities to create active uses at ground floor like retail, food and beverage or community uses. These active uses contribute to the streetscape and attractiveness of the area, which in turn will positively affect the value of the building.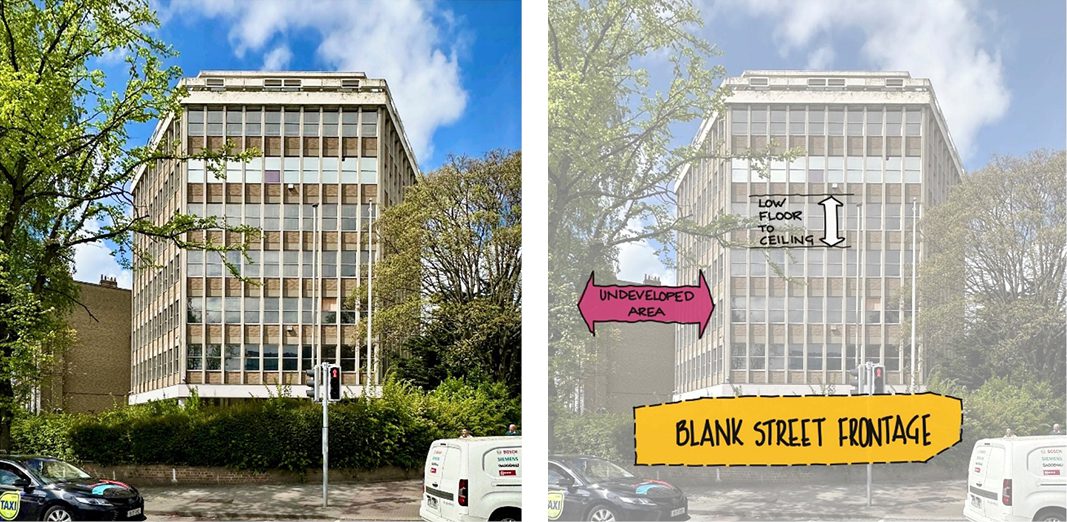 Carisbrook House
Carrisbrook House, Ballsbridge, is an example of a vintage office building with typical features, like undeveloped area to the side, low floor to ceiling height and a ground level car park that detracts from the streetscape.
So, what are some of the alternative uses?
Some ideas include residential conversions, hotels, student accommodation, life sciences, healthcare facilities, mixed-use developments, educational facilities, cultural centres, and even data centres. Each project is unique and specific to its location and context. It is helpful to assess each building and location, whether urban city centre, historic period buildings, suburban edge of city or business parks to understand what a suitable use might be. Each building will have its own unique challenges and opportunities.
Some examples of older building conversions, while they were not previously office use, offer some insight into the potential of repurposing buildings into alternative uses.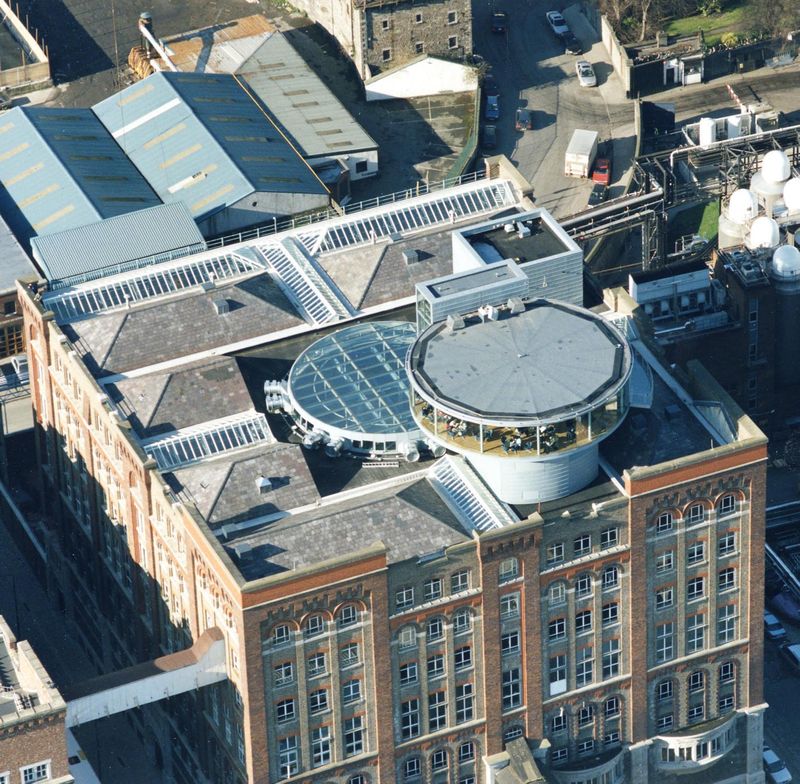 Guinness Storehouse
The Guinness Storehouse was originally erected in 1905 for the fermentation and storing of the famous stout and is believed to be the first major Chicago-style steel-framed, multi-storey building constructed in Europe. The old building, with a new purpose, acts as a visitor centre, testing centre, training facility, central archive, corporate hospitality, and a venue for cultural activities. The building has been great success, accommodating over 1.5 million visitors per year. The Gravity Bar Expansion, completed in 2020, doubled the capacity of the iconic roof-top bar with stunning panoramic views across Dublin.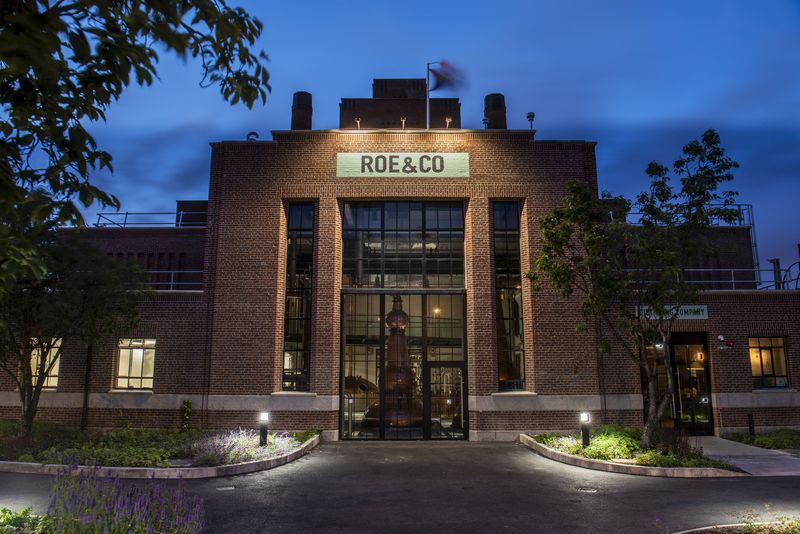 Roe & Co Distillery
Roe & Co Distillery is a conversion of an old Guinness Power Station (constructed between 1946-48) into a new urban distillery and visitor experience. The Power House was originally designed to produce electricity and pressure steam from oil and coal and supplied all the energy requirements of the Brewery. Largely unused since 1997, the building has so much to offer in terms of its architecture, internal spaces & character. The overriding design concept was to breathe life back into the building and let it shine rather than by the addition of new architectural features.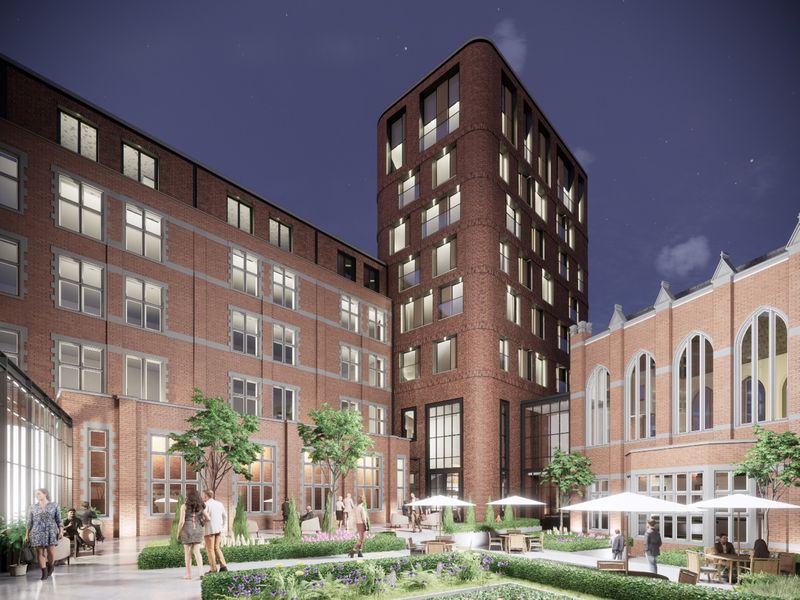 Hatch Hall
Hatch Hall is a proposal for an old Jesuit University Student Residence to be converted into a 60-bedroom five star hotel. The style of the original building is an Arts & Crafts interpretation of the Gothic Revival. The proposal embraced the qualities of the existing historic building and proposed a new extension with its own architectural merit.
The challenges and opportunities around upgrading old offices to better quality offices were explored in this RKD insights article from Séamus Guidera. Examples in here include very successful projects like Baggot Plaza, 20 Kildare Street and the Carlton Cinema. What we are also seeing, is owners and developers are looking for alternative uses for vintage office buildings that are challenging to retrofit and release in competition with newer office buildings.
There are limited built examples in Ireland of office buildings being converted to alternative uses because office uses, have traditionally been the highest value assets. We have completed some hypothetical studies to explore alternative uses for vintage office buildings. In our studies, we outline where some of the challenges and opportunities lie. What we have found is offices buildings built in the 1950s-1980s tend to have many similar features that make them poorer quality office by today's standards.
These same features can provide opportunities for other uses. Features that can be typical of existing older buildings:
Narrow floor plates of between 14m and 22m wide compared to contemporary offices that could be over 45m wide with a central atrium or core.
Core locations tend to be at the ends and at the sides rather than in the centre, which can cause further inefficiencies.
Shallow floor to floor heights of 3.0m-3.5m, with finished floor heights of 2.2m-2.8m, struggle to meet today's British Council for Offices (BCO standards) of 2.8m minimum and market preferences for clear ceiling height.
The plant tends to be large, located on the roof and sometimes at undercroft or basement level.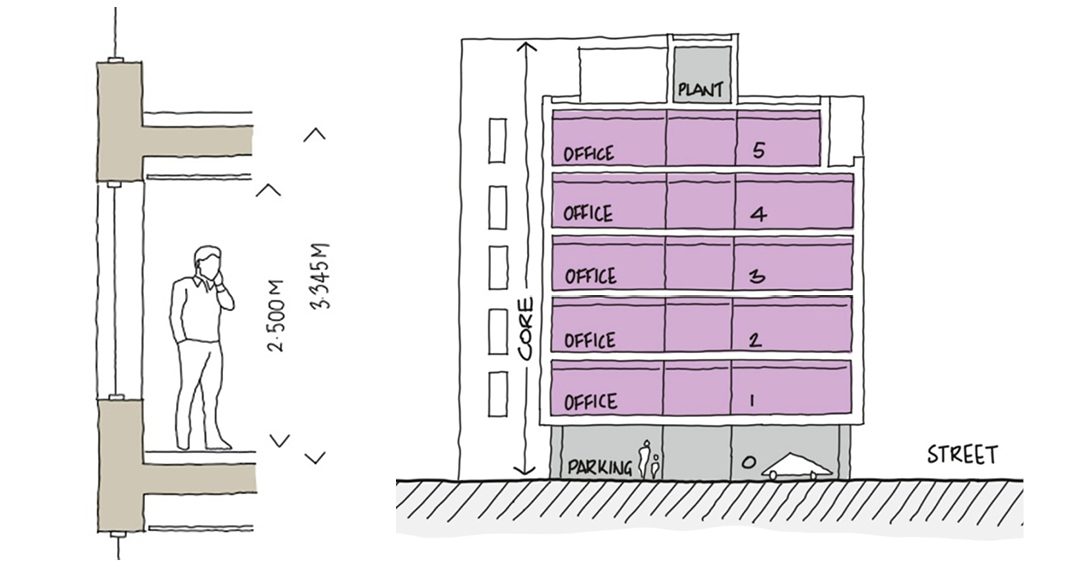 The shallow floor plan of between 15-20m is ideal for hotel, residential and student accommodation layouts. Several options can help quantify the number of units a floor plan can take. There can be opportunities to extend the building to the side or rear to gain additional floor area.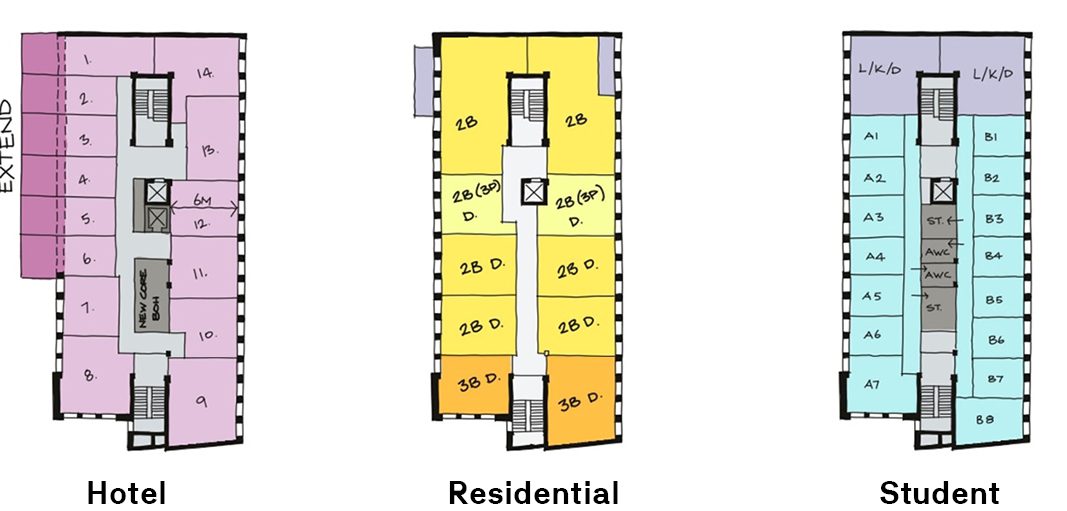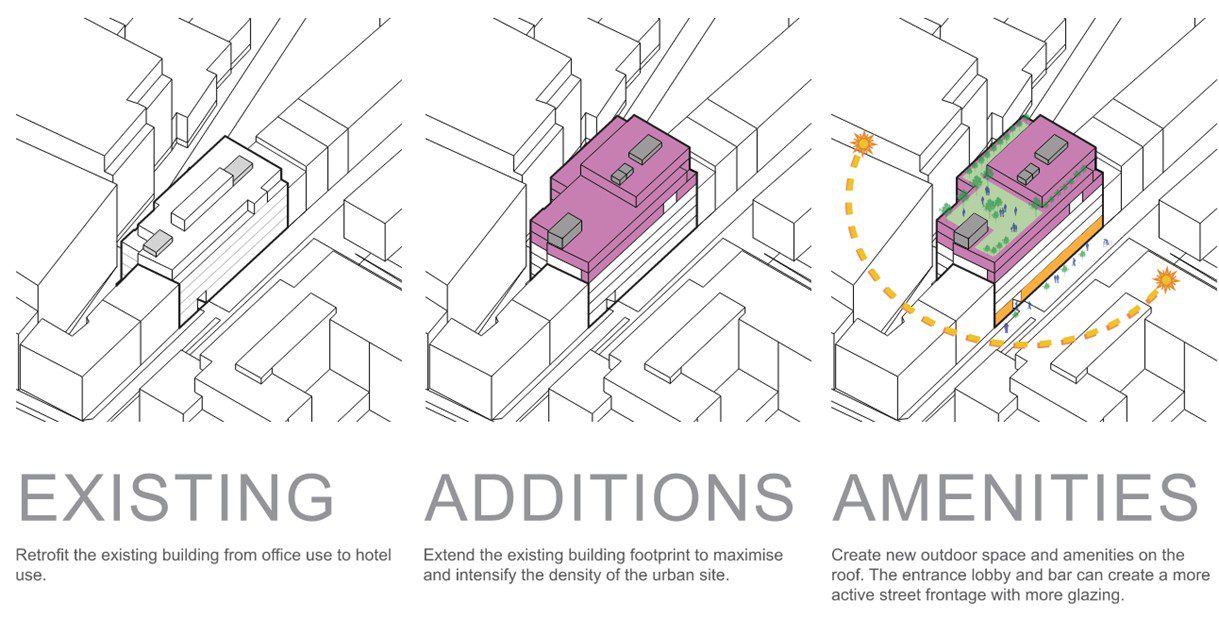 Most existing concrete frame buildings can take an additional floor or two without structural reinforcement (structural surveys are recommended to confirm as well as planning consultant advice on additional height). Roof areas can be taken advantage of to add quality external amenity space. Ground floors can have opportunities for additional amenity space, that could be linked to the new use of the building. For example, a hotel lobby, bar and restaurant or small retail space would create useable active space with a direct connection to the street.
Residential conversions in old buildings have more specific challenges to meet minimum design guidelines. There is a requirement for a minimum of 33% dual aspect units in urban areas (50% in sub-urban areas). For many older office buildings like this, there may be cores or neighbouring buildings at the shorter ends.
A creative solution, pioneered by architect Le Corbusier in Unite d'Habitation, is to have a central corridor every third floor with interlocking duplexes above and below. This layout ensures that most units are dual aspect, and it saves on the overall net to gross efficiency of the building, by increasing the ratio of apartment area to shared circulation area.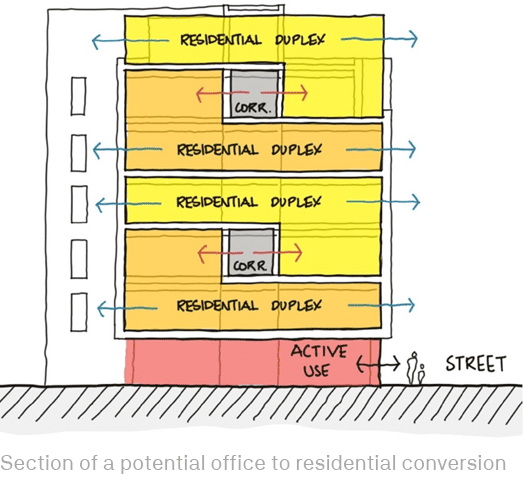 Residential Conversions:
∙ Interlocking duplex units above and below a shared corridor.
∙ Each unit will have aspect to either side of the building.
∙ The ground floor can be adapted to a more active use, like residential amenity, gym, small retail, or community use.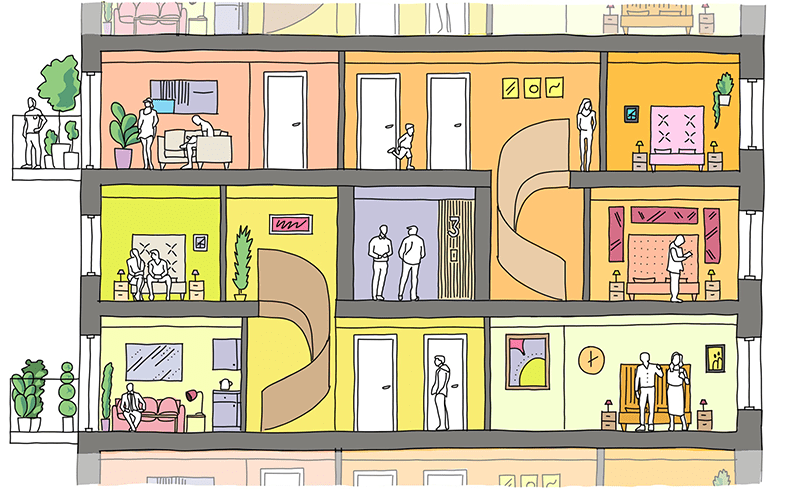 Section of potential residential duplex units
There is potential to create very liveable two-storey homes stacked vertically in our city centres.
There are limited but built examples of office conversion to other uses so far in Ireland. One recently completed example is Park West Business Park in Cherry Orchard in Dublin. It was delivered by charity Túath Housing with developers Harcourt Developments, in partnership with Dublin City Council. The overall project works are reported to have cost €309,000 per apartment. This amount is good value for money in this case, but it may be more difficult to capture this value closer to the city centre due to land prices. (source)
There are several examples of existing historic building conversions into hotels like, the Iveagh Garden Hotel, and The Dean Hotel but this author has not found any examples of vintage office block conversions into other uses. There are also examples of hotels being converted into student accommodation, like The Montrose Hotel across from UCD.
At RKD, we are working on office building conversions into Laboratory and Life Sciences uses. As the demand for this use is increasing with more investment into healthcare, this model is appearing to become viable at the periphery of the city. Life sciences floor plates tend to be more like office floor plates with lower population densities. The building cores tend to have more mechanical and electrical (M+E) risers for the lab spaces but smaller bathroom requirements for less people.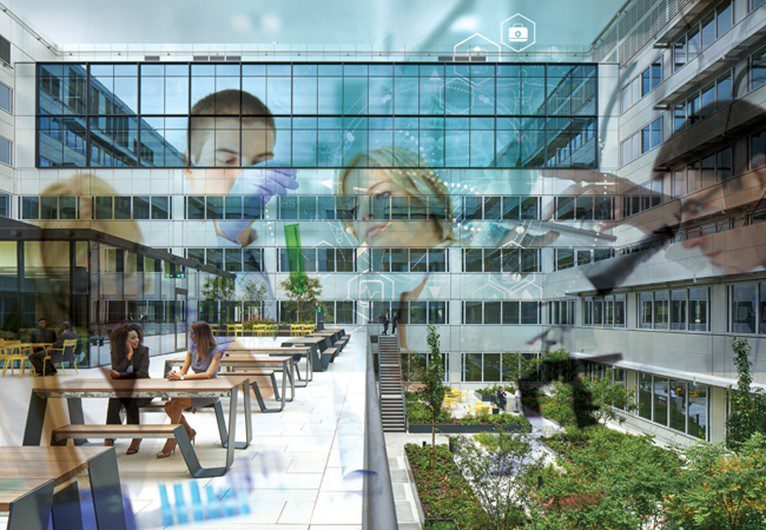 Former BBC office (The WestWorks building). Image source: https://www.cibsejournal.com/case-studies/from-bbc-to-bio/
There are examples of this type of conversion in London and New York, like this former BBC office (The WestWorks building) was converted into a new laboratory for Engitix Therapeutics.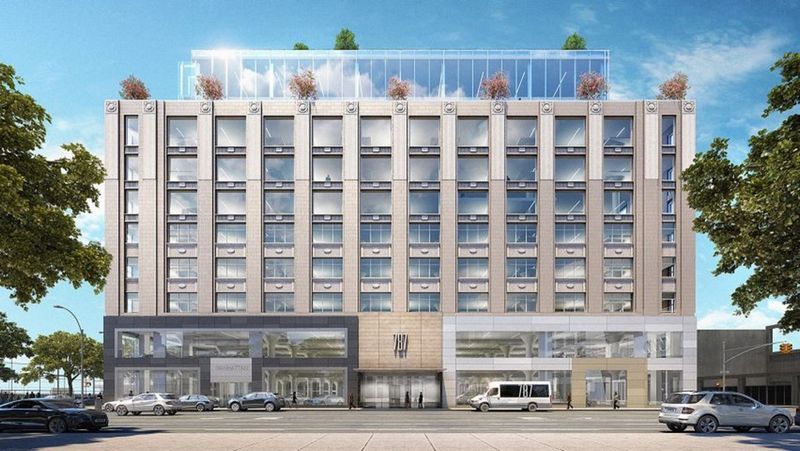 787 11th Avenue, New York. Image source: https://www.dezeen.com/2021/03/09/neri-oxman-787-11-avenue-office-rafael-vinoly-architects/
787 11th Avenue in New York was originally built in 1927 by architect Albert Kahn for the Packard Motor Company. Recent plans by Rafael Viñoly Architects are to renovate the building for life sciences uses, to include two anchor tenants Neri Oxman director of MIT Media Lab's Mediated Matter group and Icahn School of Medicine at Mount Sinai.
In conclusion, repurposing office buildings for alternative uses can provide a sustainable solution for these stranded assets. However, we are hearing that the value and viability threshold in the current market is very difficult to make commercial sense. There may need to be more incentive to encourage repurposing these stranded assets or they could face vacancy and dereliction in years to come. From an architectural and design point of view, there is the art of the possible and a good enough idea will make any challenge worthwhile.
Richard O'Hegarty of RKD's  Sustainability + Reserch Team recently presented research on maximising building use at the 2023 All-Ireland Architecture Research Group (A-IARG). He illustrated how much carbon we may be able to save by reusing buildings instead of demolishing them.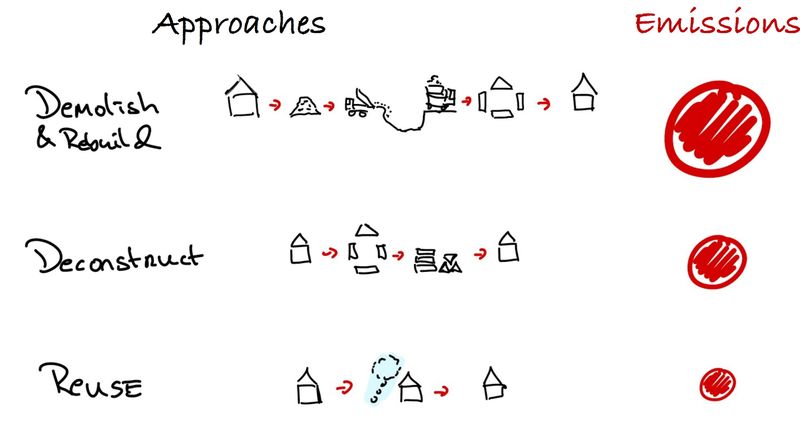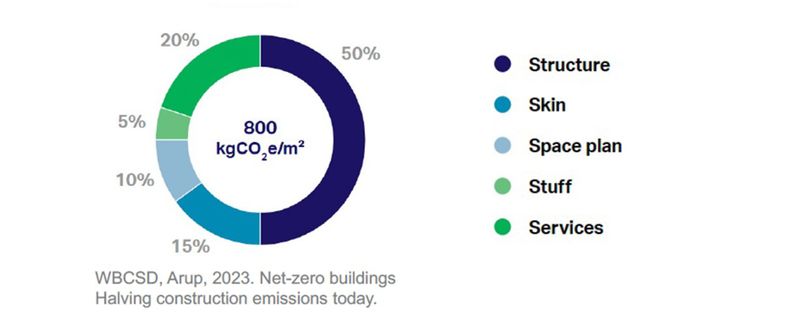 Source: AIARG Conference, presented by RKD
This is part of an ongoing research theme by RKD. We expect that we will continue be adapting more buildings in future to align with sustainability targets.
We would love to hear more thoughts and opinions on this subject. Use the share buttons below.