In March 2021, RKD won an international urban design ideas competition, The Metals in Construction magazine 2021 Design Challenge. The challenge – the Sunnyside Yard Competition – sought to generate design ideas for creating an environment suitable for affordable housing and other mixed-use urban development over a portion of Sunnyside Yards in Queens, New York City.
Home to over 3 million people, the New York City borough of Queens is the most racially and ethnically diverse county in the nation and is the fastest growing borough in the city. It is an area that is familiar to many Irish people, as generations of people have left Ireland to make a new life there.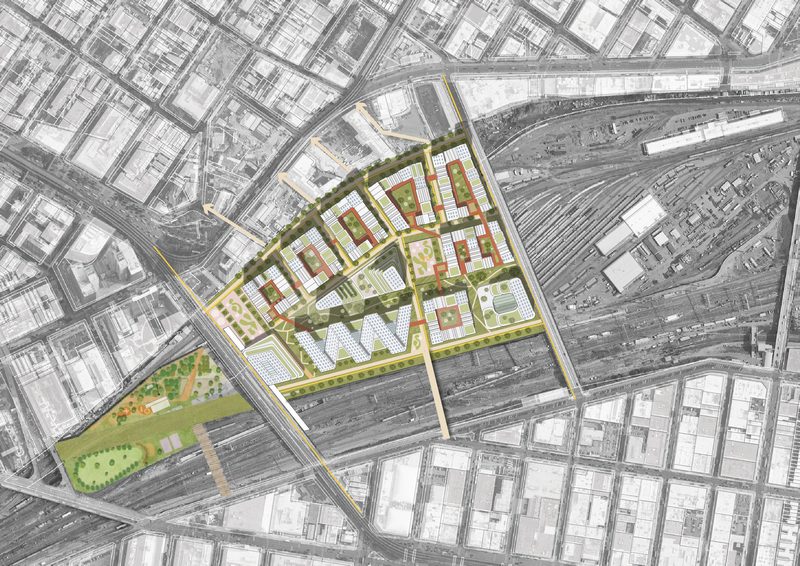 Sitting in the middle of a rapidly changing section of Queens, Sunnyside Yard is a 180-acre site that's currently home to one of the country's busiest rail yards. A mile and a half long, and owned jointly by Amtrak, the MTA, and General Motors, it is the designated site of a huge development that, in a hugely innovative vision for public lands, will be built on decks above the train tracks.
To demonstrate the scale of the project, it is envisaged that when complete it will deliver 12,000 affordable residential units, 60 acres of open public space, a new Sunnyside Station that connects Western Queens to the Greater New York region, 10 schools, 2 libraries, over 30 childcare centres, 5 health care facilities, and 5 million square feet of new commercial and manufacturing space that will enable middle-class job creation.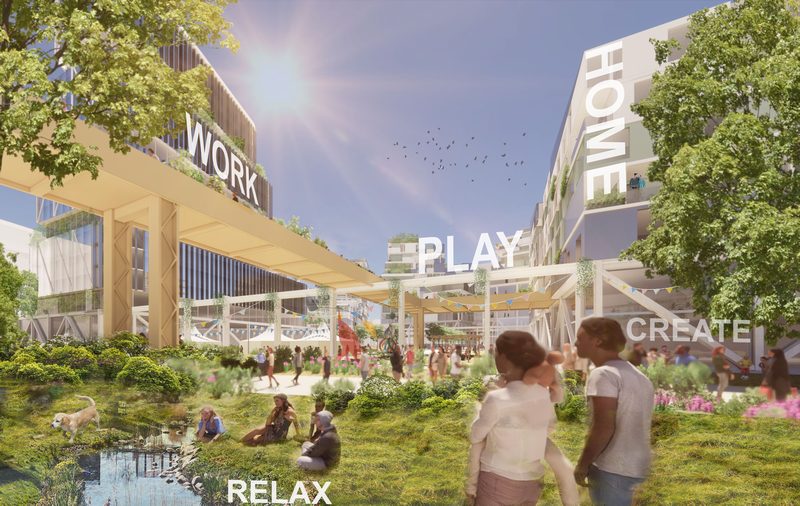 Within the overall site, there are different areas for development, one of which is the plot between Queens Boulevard and Honeywell Street. This site will see approximately 80% of the working rail depot decked over to allow for thousands of new affordable homes as well as greenspace, retail, offices and schools to build a thriving and comprehensive community.
The comparison in an Irish context, would be to build an entire neighbourhood over the rail yard behind Heuston Station!
The Metals in Construction magazine 2021 Design Challenge asked architects and engineers worldwide to envisage solutions for the location. The competition brief wove together structural, urban design, environmental, cost, and social challenges.
The delivery of affordable housing and sustainable neighbourhoods are both critical, and must inform how we design healthy, resilient and productive places for people to thrive. For us at RKD, 'design thinking' means a fresh approach to problem-solving and delivering practical solutions to bring a vision to life. The opportunity to bring that perspective to a project that has such a huge scale and potential impact was an exciting challenge. It afforded RKD an opportunity to bring our research to a real-life project, to trial new concepts, and use innovative ideas to create a new type of neighbourhood that would meet the needs of New Yorkers now and into the future.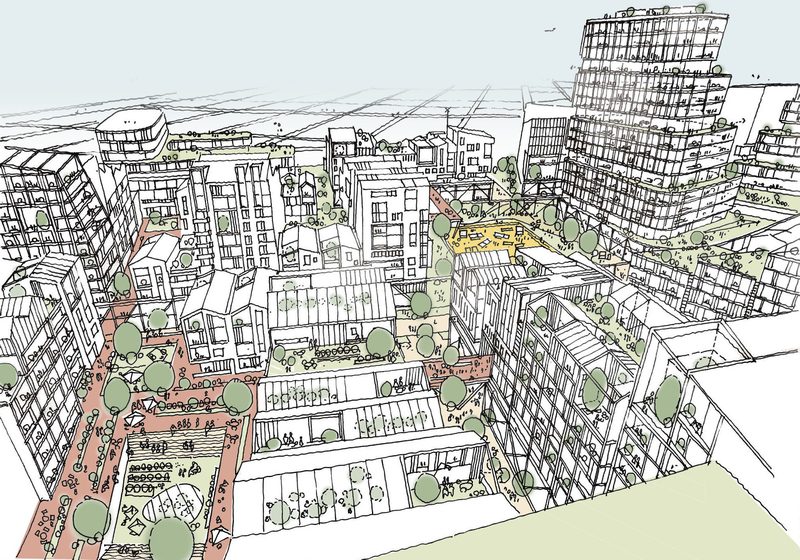 In our proposal, we devised and designed a neighbourhood that wove together the 'quilt of Queens' to create a cityscape that felt as much as possible like an extension of the surrounding communities. Our design not only provided 3,800 affordable homes and a sustainable neighbourhood, but suggested mixed-used spaces to accommodate schools, offices, parks and retail spaces to support the diversity of the neighbourhood and the needs of the community.
The proposal we put forward incorporated a 60-by-60-foot grid platform composed of structural steel that aligned to the streets on the north and west edges of the site. This underlying framework considered different sizes and types of housing units, allowing the space to adapt to any future changes that may be needed by combining, extending or renovating within the primary building structure.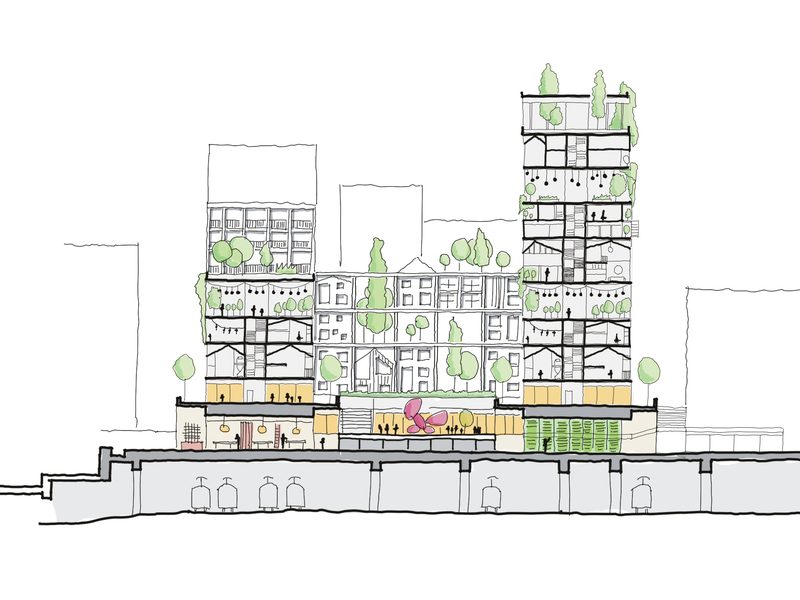 The first three floors of each building block feature a mixed-use programme, while the central courtyard acts as greenspace for the community. The mixed-used design was intended to maximize activity with all the required amenities for residents available within this proposed '15-minute neighbourhood'.
The 15-minute neighbourhood as a concept is a simple idea, it encourages a world in which residents could meet all their daily needs on foot within a 15-minute radius of their homes. The 15-minute city is not just about bricks and mortar but about creating spaces for people to work, live, and play. RKD wanted to explore and test this concept to see how it would work in theory, keeping in mind a 15-minute New York is very different to a 15-minute Paris which is different to a 15-minute Dublin. The proposed plan encouraged a resilient, inclusive and adaptive community for people to thrive now and in the future.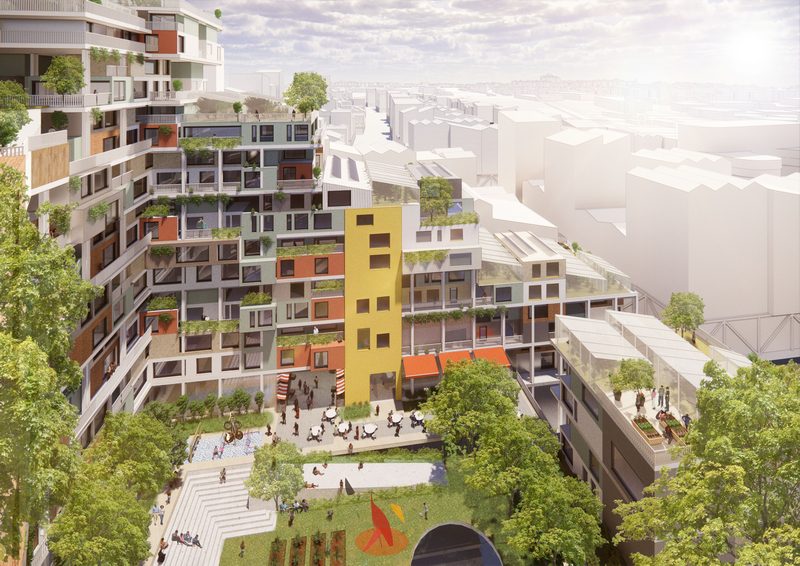 Our ambition was that the design and scheme in our competition proposal would showcase how we saw this development integrating with the surrounding neighbourhoods of Queens, filling it with inhabitants, businesses and life. This would be done through not just the design of affordable housing but also by providing places to work on the side, developing open community spaces and creating a lively and engaging public realm.
The ultimate goal of the design was to ensure a healthy community now, and in the future, and for our proposal to be successful has been both exciting and profound for the RKD team. New York City is higher rise and higher density than would be found on these shores, however we believe the ideas in our design concept could be explored and developed in towns and cities around Ireland.
We would like to congratulate the competition's two finalists, London-based DAAB Design Architects working with members of LERA and Buro Happold and a team from New York-based Pei Cobb Freed & Partners Architects, working with members of Guy Nordenson and Associates and Ken Smith Workshop.