For the third year running, RKD's sustainability leadership team took part in the Greenbuild International Conference and Expo, presented by the United States Green Building Council (USGBC).
The conference unites green building leaders and professionals from around the world to learn and source cutting edge solutions to improve resilience, sustainability, and quality of life in our buildings, cities, and communities.
Greenbuild 2019 took place from 18th – 22nd November 2019 in Atlanta, USA, with the theme, 'A New Living Standard' – connecting buildings to the health & wellbeing of the people who inhabit them. The theme's major touchpoints were affordable housing, reaching net zero, the business case for sustainability, and building performance.
Greenbuild is world-renowned for the quality of its keynote speakers: visionaries across a range of fields and disciplines who infuse the conference theme with their personal insights. This year's keynotes were delivered by former U.S. President Barack Obama; Jeanne Gang, architect; Dr. Bernice King, renowned civil rights and peace advocate; Jamie Margolin, teen climate change activist; and Dr. Marshall Shepherd, a leading international expert in weather and climate, among others.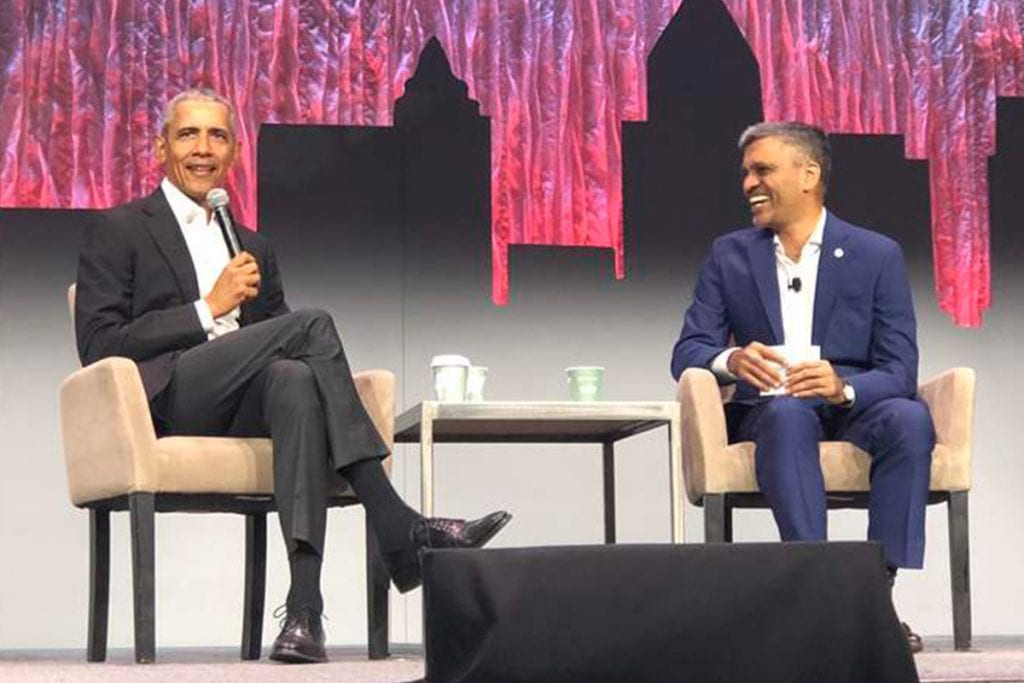 Former U.S. President Barack Obama with USGBC President and CEO Mahesh Ramanujam.
President Obama's keynote was simultaneously inspiring and alarming, communicating the personal perspective of a former world leader on the topics of climate change, the global economy, and equality. When asked what he considers to be the most compelling issue in the world today, President Obama cited climate change and global economic inequality as being fundamentally interconnected: "It's hard to figure out how we solve sustainability issues and climate change if you also have huge gaps in wealth and opportunity and education."
Beyond the keynotes, the conference facilitated excellent networking opportunities and powerful knowledge sharing through its education program and unique series of sustainability summits, workshops, tours, and awards.
Among the major award recipients was Microsoft, whose Director of Datacentre Community Development Jim Hanna received the USGBC Leadership Award from USGBC President and CEO Mahesh Ramanujam. The Microsoft datacentre team led by Mr. Hanna brought LEED Volume Build certification to Microsoft's new data centre builds globally.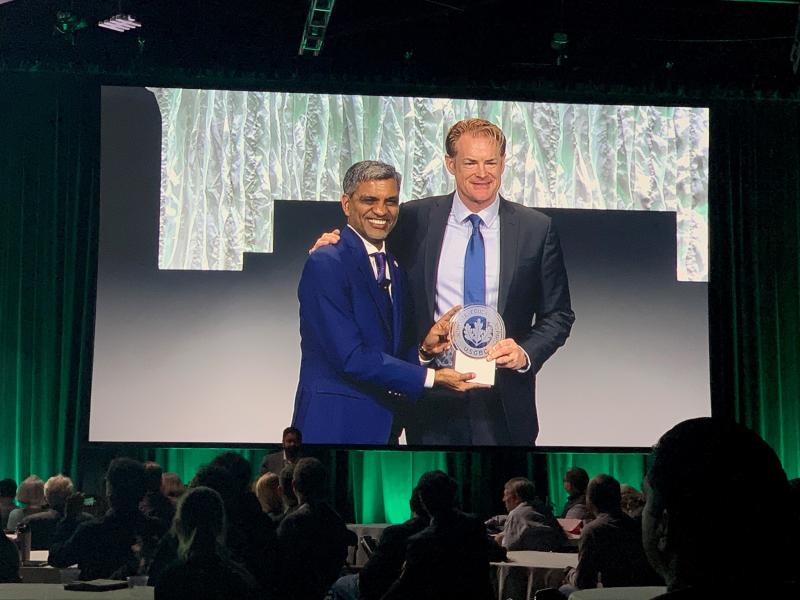 USGBC President and CEO Mahesh Ramanujam presents Microsoft's Jim Hanna with the USGBC Leadership Award.
The award carried special significance for us at RKD. Working collaboratively with JAE Engineering, we partnered with Microsoft's datacentre team to deliver this first-of-its-kind project for Microsoft and the hyperscale datacentre community.
Award success extended to our Sustainability Group Leader Sean Hogan, who received the WELL Leadership Award from Rachel Gutter, President of the International WELL Building Institute, in recognition of "profound leadership in advancing health through better buildings and stronger organizations."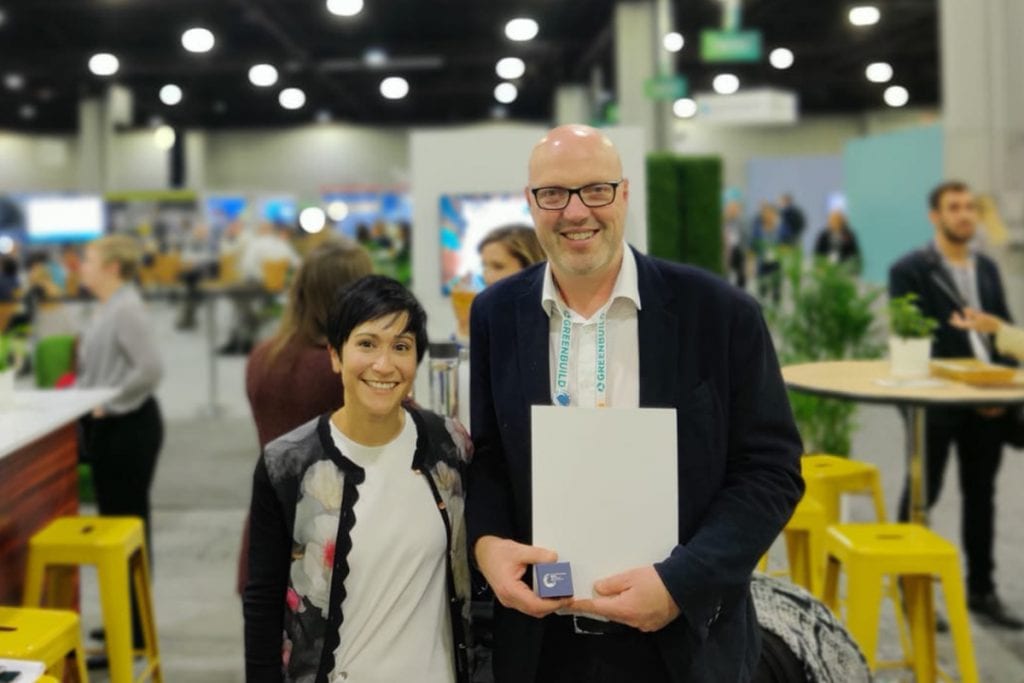 IWBI President Rachel Gutter presents RKD's Sean Hogan with the IWBI Leadership Award.
The award citation continues, "As a champion at the forefront of our shared movement, your works supports the well-being of people around the world and paves the way for future advocates and trailblazers."
Commenting on the award, Sean said, "I'm thrilled to be joining a group of honourees from around the world as a 2019 IWBI Leadership Award recipient for my work as a WELL Faculty. Together, we're advancing human health in buildings and communities worldwide."
Greenbuild is the only event genuinely dedicated to sustainability in the built environment and as such it serves as the launch pad for new innovations and technologies. Among these was the launch of the Arc scoring platform.
Arc creates scores for spaces, buildings, and places based on real world and operational performances. These scores help to distinguish leaders and power market transformation. The new Arc Performance Certificates reflect performance in one of five categories: energy, water, waste, transformation, or human experience.
Another significant launch was the Embodied Carbon in Construction Calculator (EC3) tool, giving the building industry powerful means to act on an area of growing concern: embodied carbon emissions of building materials.
This free, open-access tool, based on the industry's first database of digitalised Environmental Product Declarations (EPDs), will allow architects, engineers, owners, construction companies, building material suppliers and policy makers to easily evaluate and reduce embodied carbon emissions from construction materials, effectively empowering them to reduce embodied carbon within buildings at scale. The building and construction sector have a vital role to play in eliminating carbon, as it is responsible for nearly 40% of global greenhouse gas emissions.
While the underlying issues are complex and their effects extremely serious, our main takeaway from the Expo was hope for the future, evidenced by the common purpose shared by all attendees. The green building movement embraces all of humanity by making sustainable buildings and environments accessible to everyone, and in doing so, benefits the natural environment all around us.
It was a great week at the expo — we're already looking forward to San Diego 2020!